There are two kinds of white color – tires completely consisting of white rubber and ones having white strip on a sidewall. The first are specialized "clean" ones that do not leave black marks and rubber dirt, designed for use in very clean rooms – for example, forklifts on pharmaceutical factories. Such tires are quite expensive.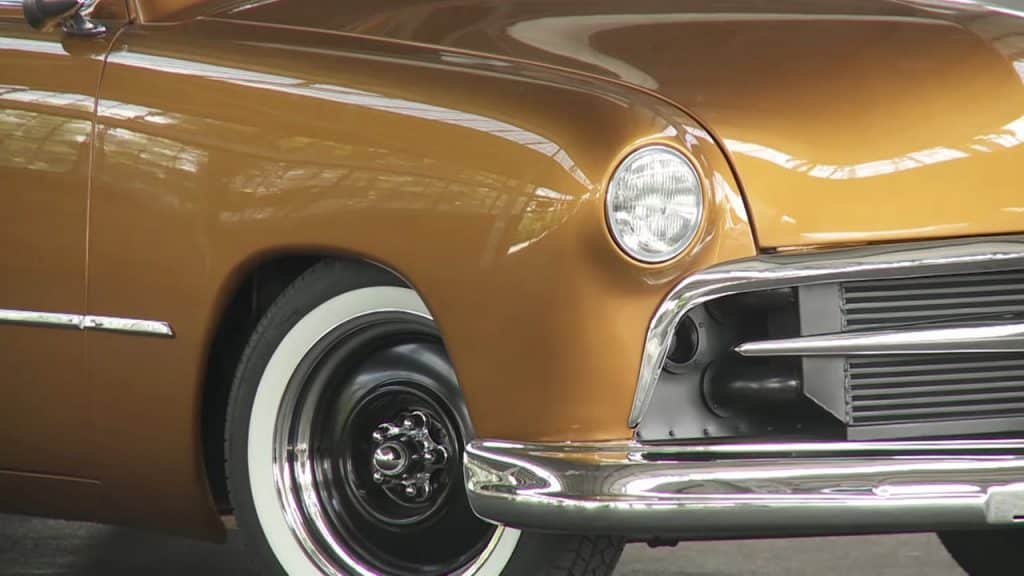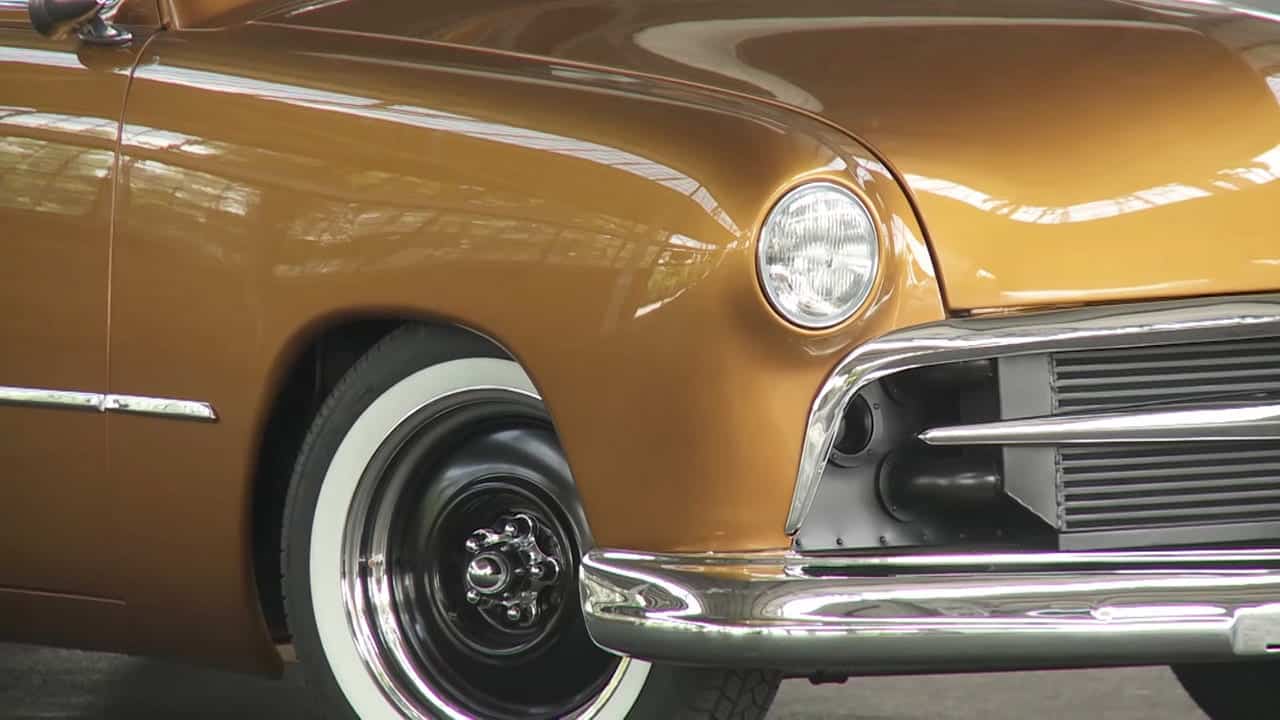 The latter, in turn, were very popular in the early and mid 20th century; almost all cars used white stripe tires. They were produced by manufacturers for reasons of economy – the white side required less expensive carbon compounds.
Today, the installation of wheels with white stripes is gaining popularity again, but directly opposite to the one that was in the last century. They are used by car owners who want to give their car a special chic and shiny old-fashioned look. Most items with white stripes, produced today, are intended primarily for fans of old car models – all kinds of collectors and owners of vintage items.
Therefore, many models of tires with white stripe not only externally repeat the ones of that time, i.e. have a high profile and primitive tread pattern, but are also quite expensive.
They are produced by specialized manufacturers (Diamond Back Classics, Vogue Tire Company, Coker Tire). For fans of "vintage tuning", various well-known manufacturers of "ordinary" wheels produced batches of modern items with white stripes. If you look well, you can still find them on sale. These are such models as Dunlop SP 601, Pirelli P400, Kumho 791, Cooper Trendsetter SE – summer and BF Goodrich Winter Slalom 107s – winter.
Can you use bleach on white wall tires?
Most civilized people at least occasionally clean their shoes. But among drivers, a man looking after the "shoes" of his car looks a little bit weird. The majority thinks that it is enough to control the pressure in the wheels. Meanwhile, tires and rims need regular maintenance. And an elegant appearance is not the only argument in favor of modern chemicals.
Tires that have lost their original gloss are treated with special cleaners (Tire magic, Tire glaze, Whitewall cleaner). Their main purpose is clear from the name – compositions dissolve old dirt, oil, tar and wash away dust. In addition, they penetrate into the pores and are well held on its surface, which protects against cracking and discoloration, restores shine and makes the sides smooth in appearance. Most substances contain silicone oil – the product is known to be quite slippery. Therefore, cleaners do not recommend applying it on the tread. They should also avoid getting on the brake system parts.
According to the method of application, the compounds can be divided into two types.
The first type is foams and fluids that work effectively without any additional operations. They are sprayed from an aerosol can onto the dry sidewall. There is no need to wash or polish them – it will run off the tire itself in a few minutes, taking away all the dirt with it. Then the wheel will dry out and be like new.
Mixtures of the second type will make the owner of the car to work a little. They are applied to the tire and kept for some time so that the cleaner is properly absorbed into the dirt. Then the most contaminated areas are wiped with a special brush built directly into the spray can.
However, white wall ones are not so easy to clean. That is why looking for Westley's bleche wite alternative, drivers resort to non-traditional methods, such as bleaching agents. First of all, it is not recommended using them. Besides, there is a wide range of cleaners made specifically for white wheels. Bleach is extremely harsh, so if you decide on using it, you should dilute it. Moreover, if you do not want your tires crack, then you shouldn't allow the bleach sit too long.
What is the best white wall cleaner?
Tire cleaners allow not only to return the surface of tires to their former appearance and shine, but also to protect them from harmful environmental factors, such as residual fuel, engine oil, dust, dirt, abrasive elements, reagents that sprinkle the road in winter and so on.
Unfortunately, most drivers ignore the need to use a foam cleaner (or other types of cleaner), believing that it is enough to control the air pressure in tires. In fact, cleaning agents penetrate into the micro pores , thereby protecting it from cracking and discoloration, which inevitably occurs with any surface in the process of its operation under load, ultraviolet radiation (in particular, under the bright summer sun), as well as the temperature drop. The choice of a wheel cleaner must be based on several fundamental factors. In particular, its type (polypropylene, liquid), composition, functionality, quantity of the product in the packaging, ease of use, value for money (efficiency of use).
As for the white wall cleaners, they must be removed from the tire surface. After their application it is necessary to wait for some time, then you need to remove it with a rag and a jet of water. You can use either Black Magic Bleche-Wite or a Mr. Clean Magic Eraser if you want to brighten the white.
Will bleach clean tires?
White wall bleach is very harsh, especially on vehicle parts and it is not recommended to use it as a cleaner. However, it will help you clean your wheels, but you shouldn't use it as your go-to cleaner, because it will eventually destroy your tires.
Can you use degreaser on tires?
Of course, it is always better to use white wall cleaner made specifically for this aim. However, many car owners are looking for cheap alternatives, like degreaser. A degreaser that can be diluted in water is quite safe on your wheels, because it is non acidic.