One of the main issues that arise when purchasing the 6054 headlights is the Sylvania h6054 compatibility. Many people are afraid that the headlights may not work, or that special connection equipment will be needed. For this reason, it is always wise to ask again whether the third party headlights are suitable for your truck or car model. If you have previously used 7×6 or 5×7 panels on your car, you will probably not have any problems.
It should be noted at once that in most cases the connection is made according to the standard h6054 headlight wiring diagram. The manufacturer may not attach installation instructions, but the connection plug or contacts are shown on the product's photo. Of course, the easiest way is to hand over the equipment and car to the service, where the installation will perform professionals.
Multifunctional LED and hybrid panels
All modern 7×6 headlights consist of either a single LED or operate based on halogen light and Led light bulbs. Standard LED lights have sufficient power, but their functionality is limited only to low beam and high beam. Usually hybrid headlights use a standard halogen light bulb for low and high beam and LEDs for extra light.
Many samples have a very stylish design and have a not a standard chrome body, but black or gray. In any case, you can always find a headlight that combines excellent design, powerful light, and functionality. As for protection, many front headlights are completely waterproof, dustproof and even have high vibration resistance.
---
List of Top-Rated 6054 Headlights
---
---
Reviews of the Best 6054 Headlights
---
V-spec H6054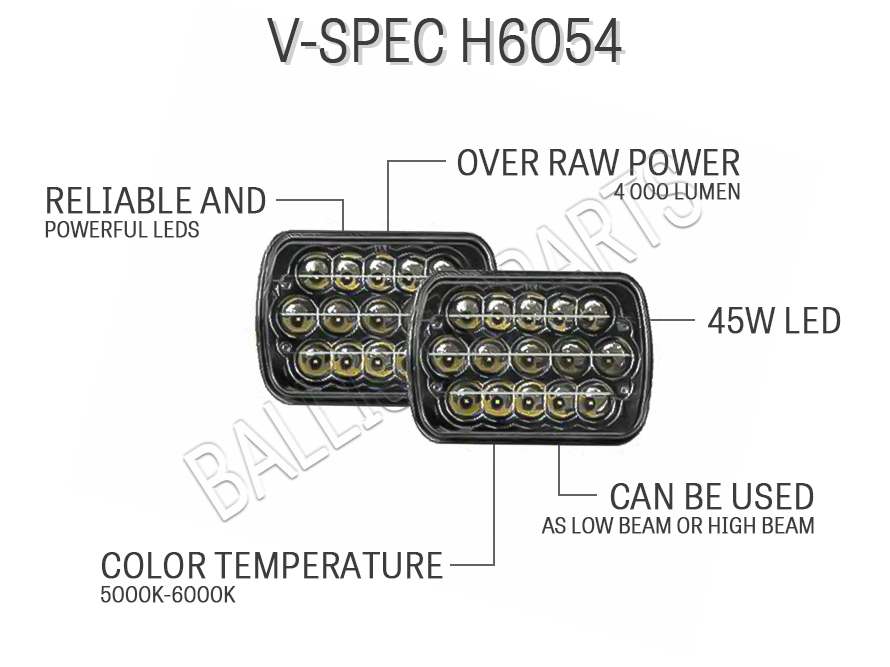 | | |
| --- | --- |
| Color Temperature | 5000-6000 K |
| Lens Material | PMMA |
| Lifetime | over 50 000 hours |
| High and Low Beam | Yes |
| High Beam | 5900 LM |
| Low Beam | 2800 LM |
| Waterproof | IP67 |
| Installation | Plug and Play |
| Housing Material | Aluminum |
| Light Color | White |

Beautiful LED front headlights in the black body significantly transform the appearance of any car. The headlights are represented by a set of two standard sized headlights, which can be connected very easily with a plug. The headlight body is fully protected against water, dust, and mechanical damage. The flashlight is designed for both low and high beam and uses a total of 15 LEDs of 3 watts each.
Pros
tightness according to the IP67 standard
reliable and powerful LEDs
improve visibility by 200-400 percent
Features
color temperature from 5000K to 6000K
total power: 45 watts
weight: two and a half pounds
manufacturer of headlight: V spec
Such headlights look very cool and allow you to achieve effective lighting at night. With this set, you can improve your car from an aesthetic and practical point of view. You get great headlights at an affordable price.

What does the IP67 protection standard mean?
– This means that the headlight is well protected from water and other adverse weather effects. The body uses a special efficient air drainage system, which avoids condensation inside the unit and fogging of the headlight body in general.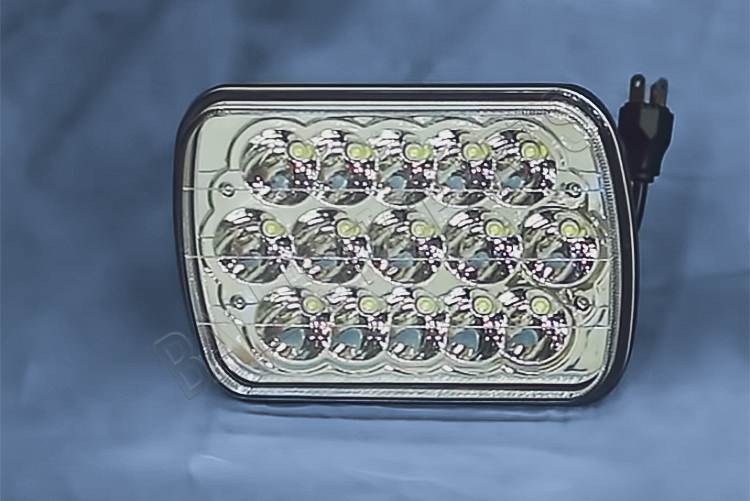 ---
Audexen AU573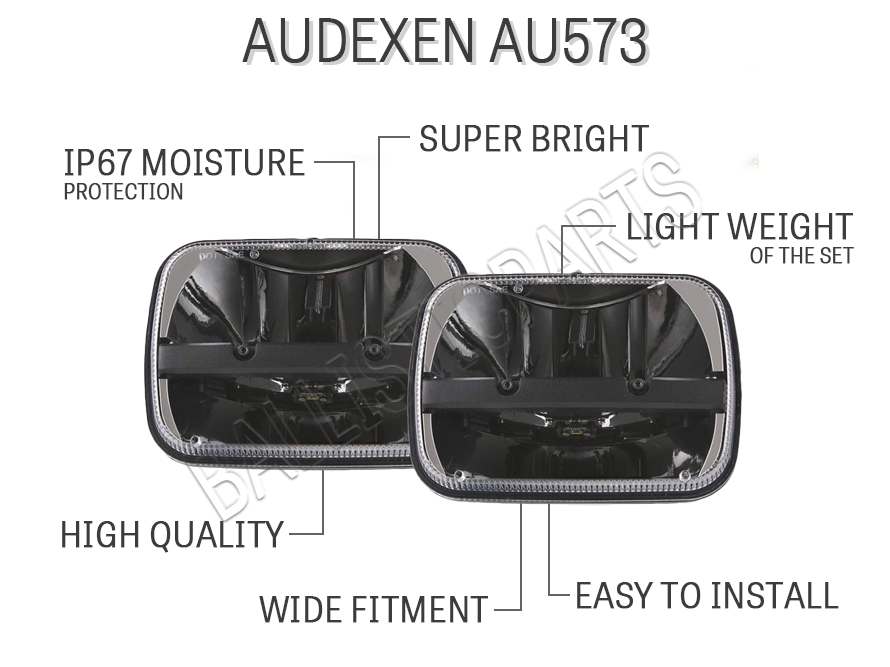 | | |
| --- | --- |
| High and Low Beam | Yes |
| High Beam | 5800 LM |
| Low Beam | 3800 LM |
| Type Lamp | H4 |
| Waterproof | IP67 |
| Housing Material | Aluminum |
| DOT certified | Yes |
| Lens Material | Polycarbonate plastic |
| Lifetime | over 50 000 hours |
A very interesting offer of 7×6 headlights is presented by the AUDEXEN brand. It should be noted that the headlights are much more expensive than many other analogs, and the manufacturer declares the reliability of the product. The headlights are suitable for use on a very wide range of many car brands.
Headlights are guaranteed to last more than 50,000 hours and can operate in a wide temperature range. The aluminum body of the headlight, together with the powerful LED light bulbs, provides a very decent level of brightness.

Pros
very bright headlights in both high-and low-beam mode
high-quality aluminum reflective body
light weight of the set
are DOT certified and meet all safety requirements
the manufacturer is always ready to help with any problem with the headlight fault
Features
H4 type connecting node
IP67 moisture protection
the approximate weight of the headlights is 6 pounds
manufacturer: AUDEXEN
This is a great option for those who want to buy powerful and reliable LED headlights for their truck. The headlights are designed for use in harsh weather conditions and are waterproof. A special air drainage system makes it possible to quickly get rid of accumulated condensate. As for installation, the connection device is very simple and the whole procedure can take less than 20 minutes.
What is the brightness of these led headlights?
– The headlamps are very powerful and are probably one of the brightest h6054 sealed beam headlight on the market of LED car headlights from third parties. In high beam mode they give 5800LM, in low beam – 3800LM. These are good enough indicators that can significantly improve safety on the road at night.
---
LX-LIGHT LX-JXLHL57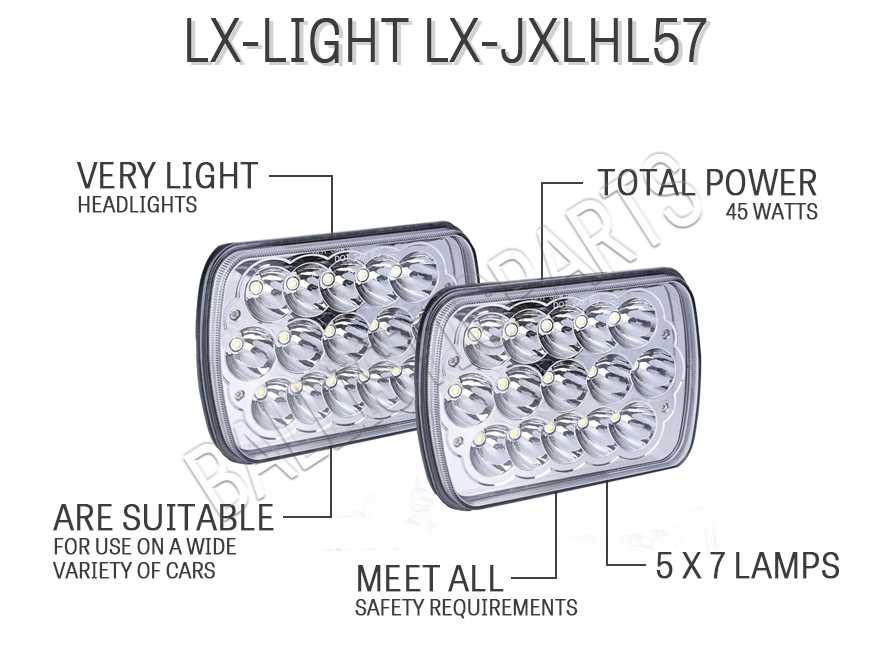 | | |
| --- | --- |
| High and Low Beam | Yes |
| High Beam | 5800 LM |
| Low Beam | 2600 LM |
| Color Temperature | 6000 – 6500 K |
| Lifetime | over 50 000 hours |
| Housing Material | Aluminum |
| DOT certified | Yes |
| Waterproof | IP67 |
| Light Type | LED |
| Voltage | 12 V (9-36) |

Like many other headlights on the market, these LED lights are designed for use in a variety of weather conditions. A distinctive feature is the light aluminum body, which together with the LEDs provides the proper brightness. It is stated that the headlights are guaranteed to last more than 50,000 hours.
The headlights have a good resistance to water and temperature fluctuations. The level of protection allows their use in rain, snow and any other weather. This set consists of two headlights for the left and right side. Installation is very fast and does not usually require additional modifications.
Pros
meet all safety requirements
are suitable for use on a wide variety of cars
bright headlights with a powerful and reliable chip
very light headlights
Features
voltage: 12 volts
total power: 45 watts
set weight: 1 pound
manufacturer brand: LX-LIGHT
Quite an interesting variant of flashlights in the middle price range. If you need to improve or replace the lighting on your old car, such light LED headlights can be very useful.

How many LEDs are in these headlights and what power are they?
– The headlights are equipped with modern LEDs in the amount of 15 pieces, each of which has a power of 5 watts. Together we get the standard power of 45 watts for such LED headlights.
Does one such headlight replace the vehicle's low beam and high beam?
– Such a headlight is a kind of 2b1 headlight led replacement. You can install one such panel and get both low and high beam on the car. The headlight has two modes of operation. It is visible in the product photos.
---
Genssi 7X6-DEMON-HDLT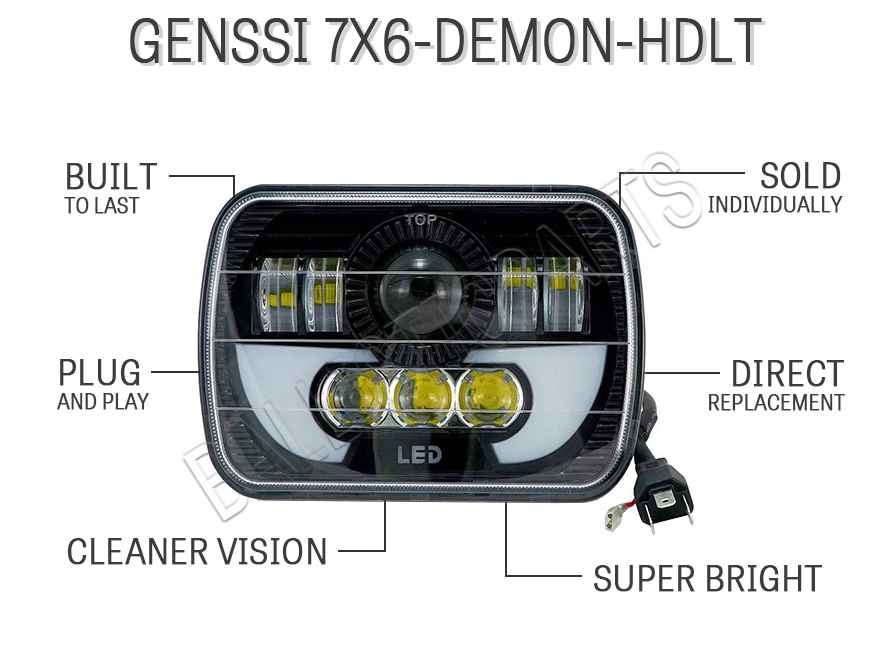 | | |
| --- | --- |
| Connection lamp | H4 |
| POWER | 75 W |
| High Beam | < 3700 LM and 75 W |
| Low Beam | < 2800 LM and 90 W |
| Lifetime | over 30 000 hours |
| Housing Material | Aluminum |
| Headlights Type | 7 x 6 |
| Color Temperature | 6000 – 6500 K |
| Input Voltage | 12 (9-32) V |
| Lens | 96% Transparency |
General overview
This is one of the most unusual Led lights for many cars. The headlights look very unusual and stylish. There are several light bulbs with 75 watts for low beam and 90 watts for high beam.
There are three large round light bulbs at the bottom of the body. Two bulbs are also available on each side. There's one big round spotlight between them. All light bulbs have quality glass lenses that diffuse the light output. The LEDs are in a black body. Thus, due to the power of the light bulbs and quality lenses, these headlights provide a high level of brightness for driving in almost all adverse weather conditions.
Pros
stylish black led light bulb in a body
powerful enough low and high beam
protection from moisture and dust
Features
standard H4 type connection
voltage: 12 volts
approximate weight of the set: 2 pounds
there is an inscription "led" in red letters
manufacturer brand: GENSSI
These headlights significantly transform the appearance of the car. They are even called "demon eyes" because of the unusual arrangement of the light bulbs, which look very stylish and even intimidating. If you're thinking about how to make your car look unusual and get a good bright light, then these front lights can do the job perfectly.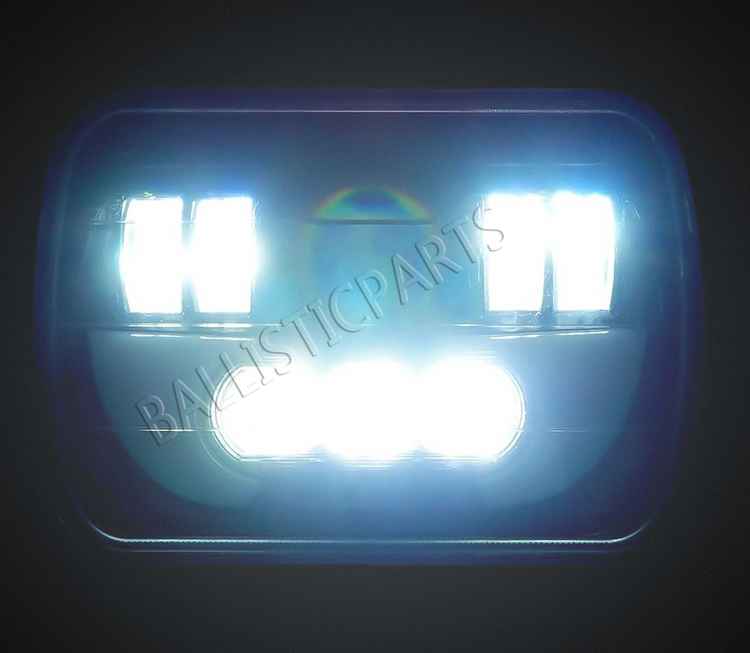 I don't understand, how many of these headlights are there, two for the left and two for the right side?
– No. Only one such light bulb is included in one package. If you need two flashlights for each side, you need to order another one of the same set.
---
HS Power HS-HL-360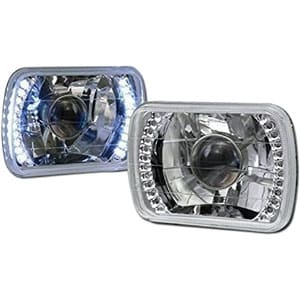 | | |
| --- | --- |
| Easy To Install | Yes |
| Type Lamp | H4 |
| Light Type | LED |
| Headlights Type | 7 x 6 |
| Color | Chrome Transparency |
| Beam Type | High and Low |
Non-typical 7×6 lamps for cars are presented by the brand HS Power. These LED headlights h6054 hid are used with H4 halogen light bulbs, which are not included in the scope of delivery. Essentially, these are hybrid LED headlights, which work together with other light bulbs for low and high beam applications. They have a chrome body and a special round transparent lens for halogen lighting. There are small LEDs on both sides of the spotlight in a semicircle.
These headlights will be a worthy replacement for the stock headlights. They have good brightness and versatility of use. Low headlight weight and bright light are their main advantages.
Pros
suitable for use with halogen light bulbs
bright led spotlight with lens and chrome body
headlights are suitable for cars that use 7×6 single-unit headlights
Features
hybrid led headlights
color: chrome
weight: 175 grams
brand of the headlight manufacturer: HS Power
The headlights are designed for cars that can use standard light bulbs in the headlights. The H4 light bulbs are not included, but the headlight can be fitted with factory halogen light bulbs for low and high beam. These headlights are quite basic and do not improve the appearance of the car. They work perfectly and give a good level of brightness of the road surface in front of the car.
How are these headlights replaced and what type of mains connection do they have?
– The headlights are easy to connect, although there is no installation instructions included. The connection is made using the standard H4 plug type. If you are not sure that you will be able to install yourself, the seller recommends that you contact technical service for assistance.
---
CO LIGHT T002N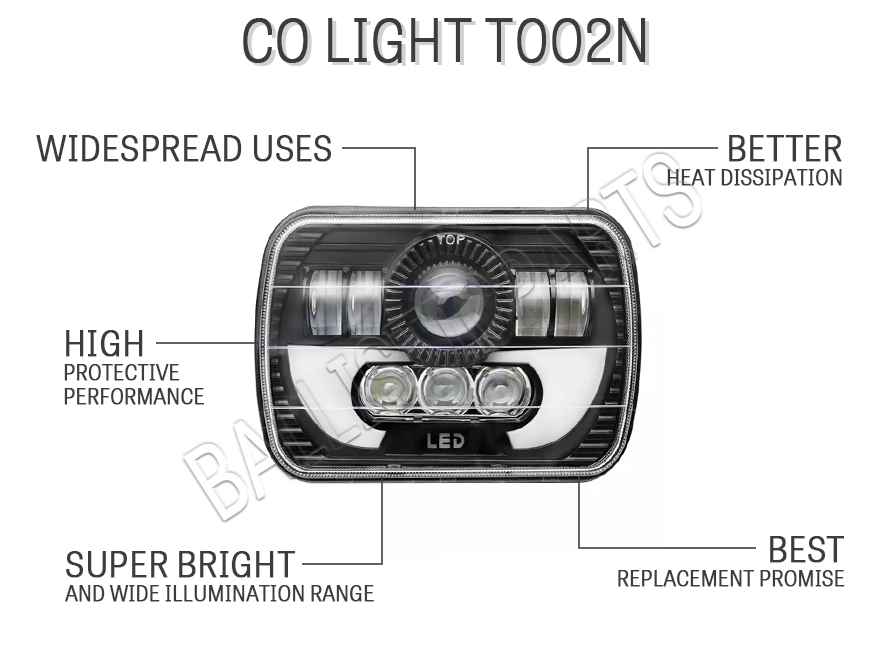 | | |
| --- | --- |
| High Beam | 5225 LM |
| Low Beam | 3800 LM |
| Lifetime | over 50 000 hours |
| Waterproof | IP68 |
| Inch Headlights | 7×6 or 5×7 |
Excellent stylish and multi-functional LED headlights with a simple H4 connection system are offered by Colight manufacturer. The headlights are among the most powerful due to several light sections. Versatility and powerful water protection are the main advantages of these front lights. They can be installed in a few tens of minutes on any trucks and cars that use standard 7×6 or 5×7 lighting panels.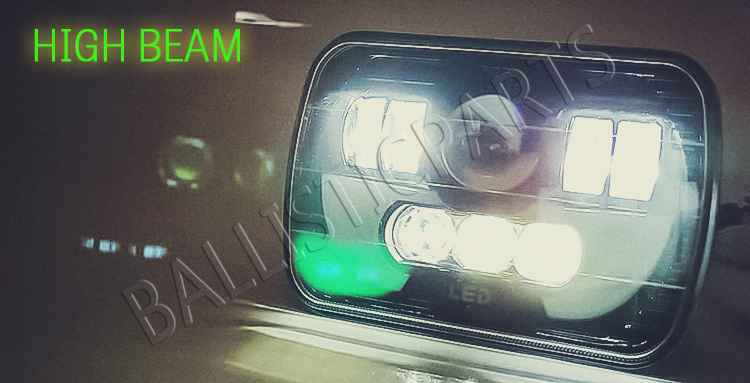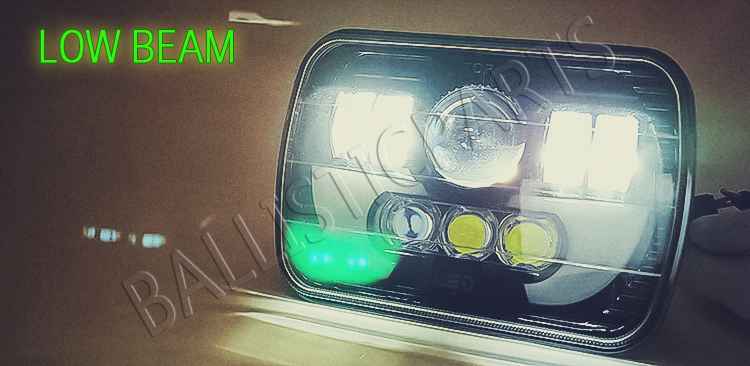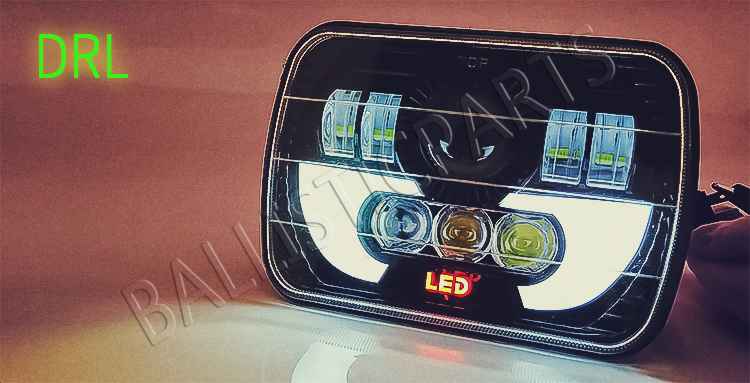 Pros
some of the brightest headlights on the market
built-in lenses increase the quality and width of lighting
improved cooling system and minimization of condensate formation
full protection from moisture according to IP68 standard
stylish black and grey body
Features
voltage: 12 volts
total power: 54 watts
color temperature 6000K
set weight: 4 pounds
manufacturer brand: Colight
These front lights are also protected against sufficiently intense vibrations. With this set of headlights you get bright, stylish light bulbs with stunning levels of protection against moisture, dust, and vibrations.
Are these headlights suitable for connection with standard H4 plugs?
– It depends on your specific car model. The manufacturer provides any additional plugs or wires if you need them. For this reason it is worth informing the seller if additional wiring or special connections are required.
---
Conclusion
---
If you are looking for efficient, stylish and bright 7×6 headlights, you should pay attention to pure LED or hybrid lights. They are well protected against moisture and vibration, and offer powerful and bright light for both low beam and high beam modes. Some manufacturers offer non-standard LED headlights with multi-functional light bulbs. Almost all samples are protected against water and can effectively cope with condensation and overheating of the entire unit. These headlights are easy to connect, although it depends on your particular car model.
---
Frequently asked question
---
h6054 headlight fits what cars
These headlights are installed mainly on Jeep Wrangler and YJ Cherokee XJ cars including the E250 model. Also, not new Toyota pickup models may have such headlights.
Some Chevrolet cars and GMC vans also use such headlight units. It is always better to check the compatibility of the headlight unit with your specific brand and model with the supplier before buying. This is the only way to avoid a situation in which the headlights simply do not fit in size or shape.
How to aim h6054 dot headlights
Adjustment of headlights is performed as a standard method in front of the wall at a distance of 7 meters. The control units are located under the hood. The correct angle of the entire light panel is set during the installation process of new headlights so that it does not blind oncoming drivers and at the same time illuminates the required distance of the roadway.
Why are the terminals on my h6054 headlights longer
Probably your car simply does not support such headlights or you have purchased the wrong headlights. You should check with the manufacturer to make sure that the car is compatible with your particular modification. Third-party manufacturers always try to ensure that their headlights are as similar as possible to the factory analogs. They produce headlights that fit exactly the shape and size of stock headlights.