The auto tuner for Harley motorcycles is an essential device for enthusiasts and professional motorcyclists. This device makes it possible to perform fine-tuning of the engine's operation, to unleash its potential and improve certain indicators. Here we will try to identify the best auto tuner for Harley Davidson, which is the most efficient and easy to use.
Any Fuel Moto Tuner is used to save fuel or reach peak engine power. This is the main purpose of installing such a device on a motorcycle. But modern tuners have advanced capabilities and help to unleash the full potential of any powerful engine. They can fine-tune fuel emission, cylinder operation, temperature control, and other engine features, which have a positive effect on the system. Auto tuner can automatically select the most optimal engine mode based on your usual driving style.
The tuner is controlled by special program codes that can always be updated, modified, and improved. Moreover, some tuners allow performing diagnostics and finding incorrect moments in the system operation. The codes allow you to create whole program modes of the engine, which affect the behavior of the motorcycle in different ways. This way the rider can always find the mode that best suits the current traffic situation. These devices are controlled using a mobile app, such as the manufacturer Vance & Hines, or using standard tools.
---
List of Top-Rated Auto Tuners for Harley Davidson
---
Photo
Product
Сonnection
Years
Details
Vance & Hines Fuelpak FP3 66005
wireless Bluetooth
2011-2020
View on Amazon
Dynojet 133-4055
18mm O2 sensors
and connection unit
2001-2013
View on Amazon
Vance and Hines FP3 Fuelpak 66007
wireless Bluetooth
connection
2007-2013
View on Amazon
Thunder Heart 309-362
18mm bung holes
2008-2013
View on Amazon
Dynojet 1020-0857
18mm O2 sensors
are included to the set
2006-2011
View on Amazon
---
Reviews of the Best Auto Tuners for Harley Davidson
---
Vance & Hines Fuelpak FP3 66005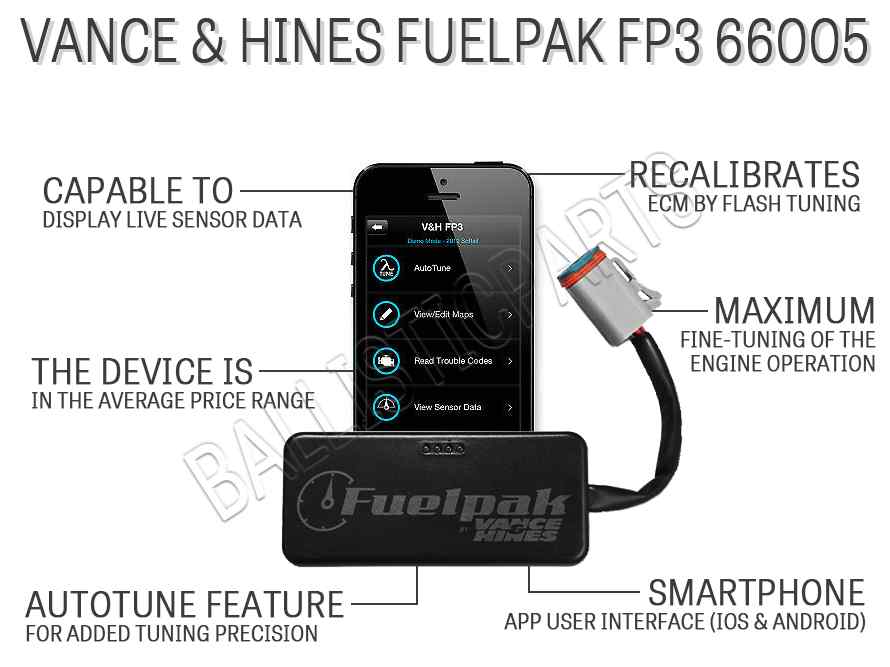 One of the best and most popular tuners for Harley Davidson is presented by Vance & Hines Company. The simple design and small size of the tuner allow you to use it almost invisibly. This device is as compact and productive as possible due to its well-thought-out setup and control system.
The manufacturer has developed a special database of codes and other data, through which the command is loaded into the tuner and its further transmission to the engine. These commands allow the engine to be fine-tuned to any available parameters. These can be engine features or modes of operation of additional units depending on the type of fuel used. Of course, such tuners are often designed to save fuel, but the variety of other parameters that can also be controlled is surprising. You can easily calibrate the speedometer, adjust the engine power as you wish, and control rotation power, speed, and energy consumption.
The user can adjust manually or to use ready complex modes, which are stored in the database and developed by the manufacturer's technicians. You can also save your settings and always go back to the previous mode that you created.
Monitoring of the bike is performed with the help of any smartphone and corresponding application. It is convenient for the user to make all settings through the phone and monitor any settings on the screen. It can be the engine temperature, speed, fuel economy parameters, battery voltage, and other features of the engine.  
Pros
the device is in the average price range
convenient connection and use via your smartphone
maximum fine-tuning of the engine operation
ability to track any parameters in real-time
Features
connection type: wireless Bluetooth
color: black
dimensions: 5 x 3 x 2 inches
the approximate weight: 140 grams
brand of the device manufacturer: Vance & Hines
The Vance and Hines tuner is suitable for use on a huge range of motorcycles from 2011 to 2019. Please check the manufacturer's website or the store for full compliance with your bike model. The versatility of the device and its small size make it very convenient to use. Riding comfort is also enhanced by giving you full control of the motorcycle system and can monitor the engine in real-time on your phone screen.
Furthermore, the tuner allows you to find faulty codes and detect incorrect operation of certain systems in the motorcycle. By detecting such errors, you can easily correct them and download new corrections.
FAQs
What is the main difference between Screamin Eagle tuner vs fp3?
– The main difference between these tuners is the ease of operation and the fineness of settings. Fp3 has a more convenient monitoring system, and the user can fine-tune the engine's performance to suit his goals and wishes.
How do I connect a tuner to my bike by myself?
– Installation of the device is as simple as possible. It is connected via an outlet using the appropriate connector on the motorcycle. No other special connections are required. Then you connect to your smartphone and configure the device directly in the app.
---
Dynojet 133-4055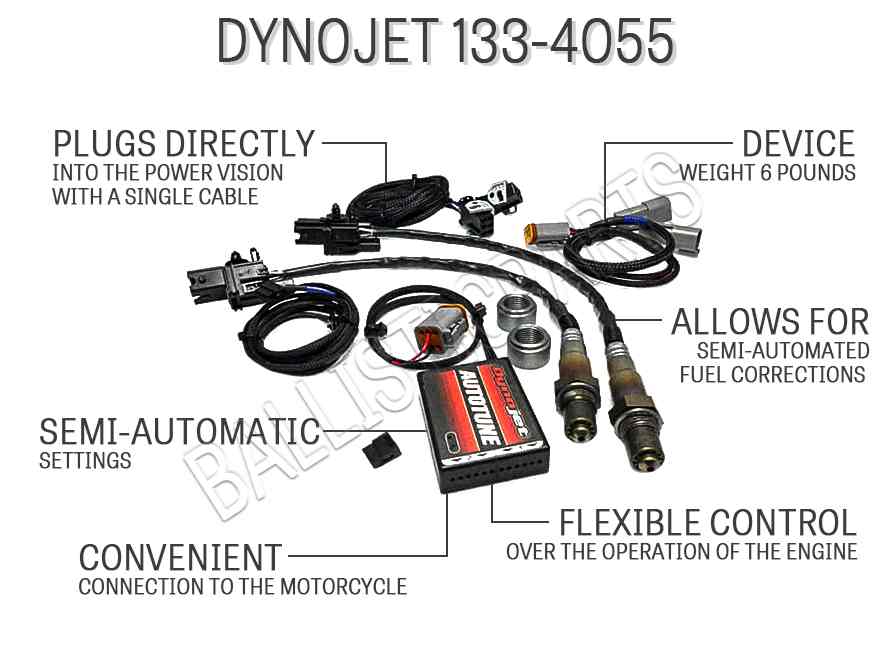 The presented auto tuner from the manufacturer Dynojet is a modern device that allows you to get flexible control over the operation of your motorcycle. This set helps you control engine power and regulate fuel consumption. A special connection system allows you to receive data in real-time and creates custom engine settings based on this information. This way, the adjustment is almost automatic according to your driving style. This is one of the main advantages which this device has in comparison with competitors in the market of equipment. 
Pros
flexible control over the operation of the engine
convenient connection to the motorcycle
semi-automatic settings
Features
Set includes 18mm O2 sensors and connection unit
device weight: 6 pounds
company manufacturer: Dynojet
If you want not only to correct the engine operation, but also to be able to track all the parameters on the screen and fine-tune them, you will also need to connect to Dynojet power vision. This device extends the functionality of the engine, allow you to see all the indicators of its performance, and set any driving mode from the extensive library of the manufacturer. Power vision can be used on a huge number of different motorcycles, and for the Harley Davidson motorcycles there is a separate special tuner, which can be used as convenient as possible with the presented motorcycle.
FAQs
Which motorcycle models has this device been designed to work with?
– The device is suitable for installation on a variety of motorcycles. As for installation on Harley-Davidson motorcycles, this auto tuner is intended for earlier models. Ask the sellers and manufacturer for more precise matching of the device to your specific motorcycle model.
What features are presented in this auto tuner?
– The user can monitor engine power, fuel consumption, and other standard parameters such as speed, engine speed, and other standard parameters.
---
Vance and Hines FP3 Fuelpak 66007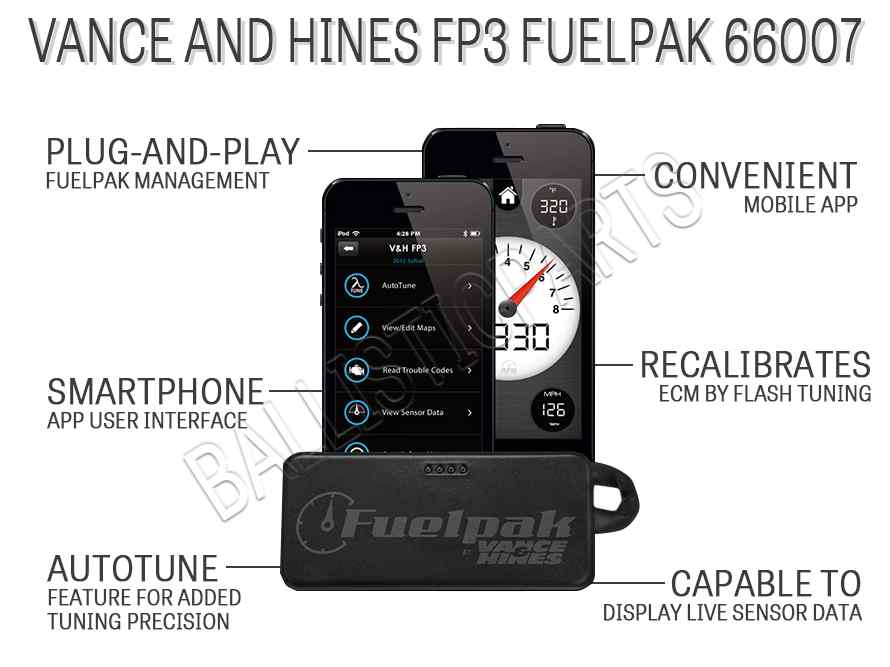 This tuner can be rightfully considered one of the best on the market. The device has earned recognition among many enthusiasts of free riding. Using it, you get maximum control over all engine functions. You can adjust fuel emission, RPM, temperature, and other parameters as precisely as possible. The extensive base of the manufacturer includes a lot of ready-made settings and riding modes that you can quickly apply to your motorcycle.
It is also possible to perform a system diagnostic to determine which command codes are faulty and which problems exist in the system. They are quickly corrected or replaced with new commands. So, you can eliminate any shortcomings in the system. It is also possible to always return to the factory default stock settings in just a few seconds. Maximum flexibility in settings and user-friendliness of the interface are the most important advantages of this device.  
Pros
full control over the functionality of the engine
a simple standard connection to the smartphone
convenient mobile app
ability to set fine settings for your driving style
Features
connection type: wireless Bluetooth connection
for models of motorcycles from 2007 to 2013 model years
unit weight: 185 grams
manufacturer's brand: Vance and Hines
You do not need to purchase any additional devices or connections. The tuner connects over a basic connection and syncs with the app on your phone. Monitoring is carried out directly in the app, and you can track the parameters of the system in real-time. If convenience and comfortable driving are important for you, then you should pay attention to this model of auto tuner. It can be considered as the best tuner for Harley 88 ci. The device is capable of collecting information about your driving style and automatically adjusts the engine's performance to match your driving characteristics and type of driving. This feature is especially attractive if you want maximum performance and don't want to dig through the settings too much.
FAQs
Can this device be considered a Sportster auto tuner?
– This model will probably not fit, as it is designed for use with motorcycles models from 2007 to 2013. But the Vance & Hines Fuelpak FP3 66005 tuner model is precisely suited for installation and full use on the Sportster model from 2014 to 2020.
How do I connect an auto tuner to my phone?
– To connect the device to a smartphone, you must first install the application on your phone and physically install the tuner on your motorcycle using the appropriate connector. When everything is ready, turn on Bluetooth on your phone and open the app. When your phone searches and finds the tuner, you can connect to it.
---
Thunder Heart 309-362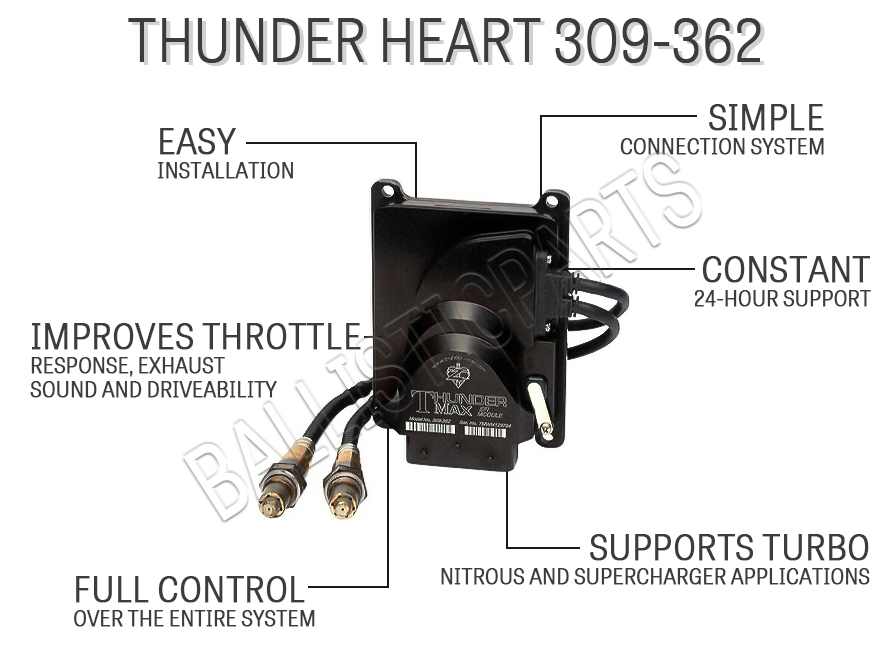 ThunderMax is one of the leading companies that provides devices that allow you to control the engine. This tuner is designed for installation on motorcycles of 2008 – 2013 production year and allows you to perform a full optimization of the engine and its adjustment according to your preferences.
The tuner allows making more sensitive throttle response, increasing engine power, reducing operating temperature and saving fuel consumption. Fine adjustments and a large number of modes of operation will help you find the best option that suits your riding style. There is also an automatic tuner mode, where you are not required to make any adjustments at all. Just sit down and drive and the device will automatically select the optimal engine and system performance.
If you are replacing any parts on your motorcycle and removing original parts, the tuner can also be configured to work with new parts. All you have to do is download the new circuit diagram that corresponds to your motorcycle. You can do this by contacting 24-hour support on the Internet.   
Pros
full control over the entire system
simple connection system
constant 24-hour support
Features
connection: 18mm bung holes
for motorcycles from 2008 to 2013
manufacturer: ThunderMax
The reliability and functionality of the considered tuner are its main advantages in the market of similar devices. The quality of the assembly is at a high level and it is very easy to connect the device yourself in your garage. If freedom is important to you and you want to have professional control over the engine performance, this tuner deserves your attention. The device can adapt to any custom modifications of the motorcycle and correctly make any changes in the operation of all its capacities.
FAQs
How can all engine performance be monitored?
– There are no additional methods to monitor the engine performance on the screen. It is a device designed to replace the factory engine control unit, and the monitoring of engine operation is performed in the same standard way as for the factory control unit.
---
Dynojet 1020-0857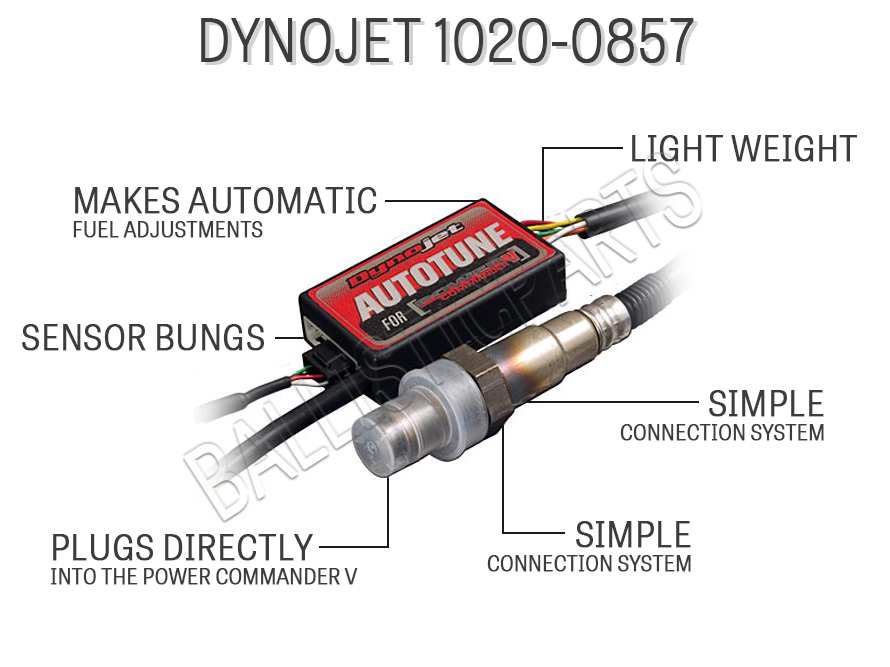 This tuner set is designed specifically for use with Power Commander. By working together, you get maximum control over engine power and adapt it to your riding style. Also, you can adjust fuel consumption very precisely over a huge range, which allows you to either reduce consumption and maintain the most economical mode, or significantly increase the engine power to peak performance.
Auto tuner allows you to automatically adapt the engine based on your riding style. So you can create your settings and enable this mode. Also, the manufacturer's database has many other settings that you always have access to.
Pros
advanced control over the operation of the engine
simple connection system
light weight
Features
18mm O2 sensors are included to the set
parcel weight up to 2 pounds
manufacturer brand Dynojet
The device is designed for maximum control of the engine and freedom while driving. The tuner is connected directly to Power Commander V via a single cable. It's even easier to adjust the fuel consumption with the automatic setting. Its functionality is comparable to the TTS Tuner and allows you to fine-tune and reset any possible parameters of the engine.
FAQs
Can I use the device without connecting to Power Commander?
– Of course you can, but to get the widest possible range of settings, it is recommended to use the tuner with an additional device. The seller offers a connection set that is specifically designed to work with Power Commander.
---
Conclusion
---
When it comes to the most comfortable and modern tuner, many people choose Hines Fuelpak devices. Just like all auto tuners, they allow you to get control over the engine and maximize its performance, but the setting, in this case, is most convenient, because it is made through an application in your smartphone.
For more professional use, the ThunderMax tuner is the right choice, with its special performance and reliability. By installing it on a motorcycle, you can be sure that the device will work for many years and effectively perform its tasks.
Tuner manufacturer Dynojet can also compete with the above-mentioned devices. Its main feature is that to achieve maximum efficiency in the operation of the Harley Auto Tuner and get absolute control over the engine, it is recommended to use it in combination with other products of the manufacturer. But such a set can please its owner with extended functionality.
---
Frequently asked question
---
Do I need a tuner for my Harley?
To answer this question, you need to understand what you want from your bike. If you don't like how powerful the engine is or if you think it consumes a lot of fuel, you should consider buying a tuner. This device will allow you to at least save fuel in cruise mode or achieve peak power with high consumption if you want to use the maximum potential of the engine. The auto tuner has a function to automatically adjust the throw-in of fuel and other parameters according to your usual driving style. Furthermore, you get access to the fine-tuning of the system and can decide for yourself how much of the engine power you use. Some auto tuners allow you to monitor in real-time even through your smartphone, so the auto tuner is an interesting and practical device for complete freedom while driving Harley.
What does a tuner do for a Harley?
Any tuner involves adjusting the engine performance, cylinders, transmission, fuel emission, and other parameters on which power depends on the one hand and fuel economy on the other. Thus, with the help of a tuner you can significantly increase the speed features of the motorcycle, reduce acceleration time or set the most economical riding mode. Automatic tuners also allow you to get the best balance between power and economy of the engine, or adapt the engine to your driving style. With a tuner you can significantly change the behavior of the motorcycle and fully develop its potential. Almost any tuner on the market can handle such a task.
Moreover, the Harley Davidson tuner allows you to track many parameters on a special screen. This means that you can observe how the engine mode of your choice changes speed, temperature, fuel consumption, and other features in real-time. Not all devices allow such additional monitoring, but only those that have an additional screen or connect to your mobile device.
Does the Vance and Hines Fuelpak work?
The answer to this question is obvious-Yes; it works and performs its assigned tasks perfectly. The device is designed for use with mobile devices and allows you to conveniently change engine modes and monitor changes on the phone screen in real-time. The tuner is very compact, easy to connect and has a convenient mobile app. This is where all the processes in the system are controlled. The manufacturer offers a huge variety of operation modes to achieve different results depending on your goals and preferences.
The device can also find problematic codes in the system, replace them, or delete them. Also, you can always reset everything to factory settings and return to the previous stock state of the engine.
How much does it cost to remap a Harley?
Normally, when you change or upgrade your motorcycle, the system data changes and this can have a negative impact on the tuner and engine performance. If you buy a tuner, the manufacturers most often allow you to update the parameters and download a new motorcycle map absolutely free. For any device under consideration, manufacturers arrange service and support. To make a software update or modification to match your changes in motorcycle parts, all you have to do is contact your supplier for assistance and you will receive an update for your specific modification so that the tuner will work as correctly as possible and the codes will match the updates made.