High-quality non-abrasive and gentle polishes are especially popular among fans of shiny chrome surfaces. They can effectively remove even the oldest stains or corrosion. The best chrome polish for motorcycle exhaust can deal with anything fast, however, one-time polishing may not be enough in certain cases. In all other cases, it will take you only a few minutes to make your bike's chrome popping. Of course, there are also a lot of cleaners on the market, designed specifically for motorcycles, that allow you to remove oil and rust. Both product types will not leave scratches on chrome surfaces and can be applied to other metals.
How to Polish Motorcycle Chrome Exhaust and Other Metal Parts
Polishing your bike's chrome surfaces usually doesn't take much time. An effective solution allows you to get great results within the first 5 minutes after applying. Make sure your chrome parts are clean before your start polishing. Chrome should be polished in small circular motions, using a fine cloth or special non-abrasive materials. Whatever you choose, high-quality chrome will not be damaged, but it's always better safe than sorry. No matter what part of the motorcycle you polish, the cleaning process is almost always the same. Before applying, we recommend reading the manufacturer instructions carefully – some polishes are used in certain conditions and at specific temperatures.
This article will tell you everything about polishing your bike's chrome rims and exhaust. Read on!
---
List of Top-Rated Chrome Polishes For Motorcycle Exhaust
---
---
Reviews of the Chrome Polishes For Motorcycle Exhaust
---
Quick-Glo Chrome Cleaner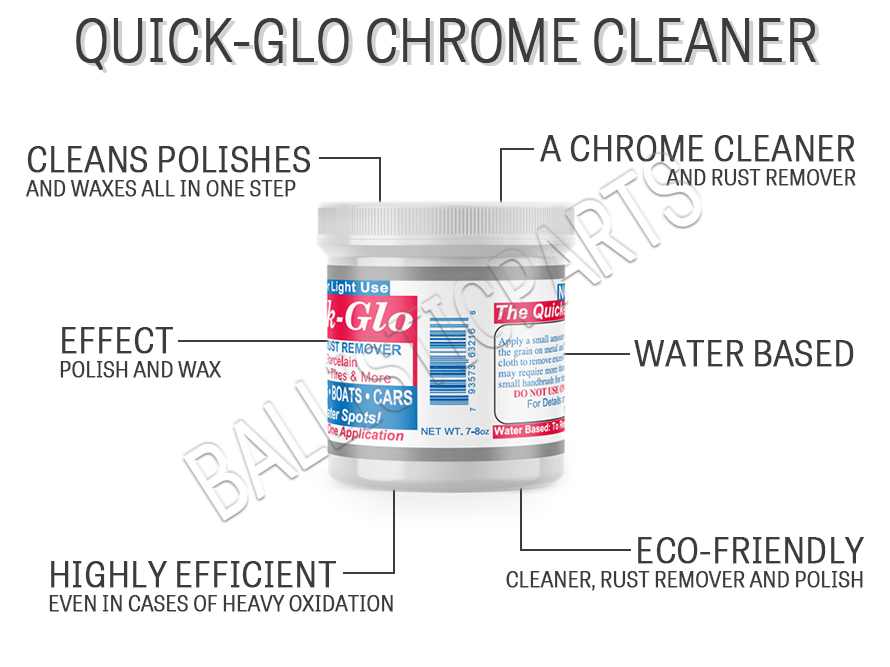 | | |
| --- | --- |
| Oxidation remover | Yes |
| Resealable Jar | 8 oz |
| Eco-friendly | Yes |
| Rust remover | Yes |
| For Use | Chrome, Silver, Brass and more |
The Quick Glo Chrome Cleaner & Rust Remover is a versatile and highly effective solution, designed to remove any types of complex stains on metal parts of your motorcycle. It can remove even the oldest rust very fast. The eco-friendly and non-toxic cleaner contains both a cleaning agent and efficient polish. As you rub the product in, it breaks down to smaller particles, providing gradual purification and perfect results. The Quick Glo Chrome Cleaner is a perfect water-based solution if you want to make your chrome tailpipe shine as new again.
Pros
Eco-friendliness
Highly efficient even in cases of heavy oxidation
Gradually breaks down to smaller and smaller sizes
Provides up-to-1-year effect
Features
Brand – Quick-Glo
Model – AZ-91633
Non-toxic, water-based solution
Effect – polish and wax
Weight – 7 ounces
The Quick Glo Chrome Cleaner & Rust Remover is an environmentally friendly and absolutely safe solution for removing rust and heavy oxidation effects from almost any metal surface. It's non-toxic, so you don't have to wear gloves or other protective equipment when applying the solution.
FAQ
Q: What does "polish and wax" mean?
A: This means that the solution can be used to remove rust and polish a metal surface with wax in the most efficient way.
---
Borla 21461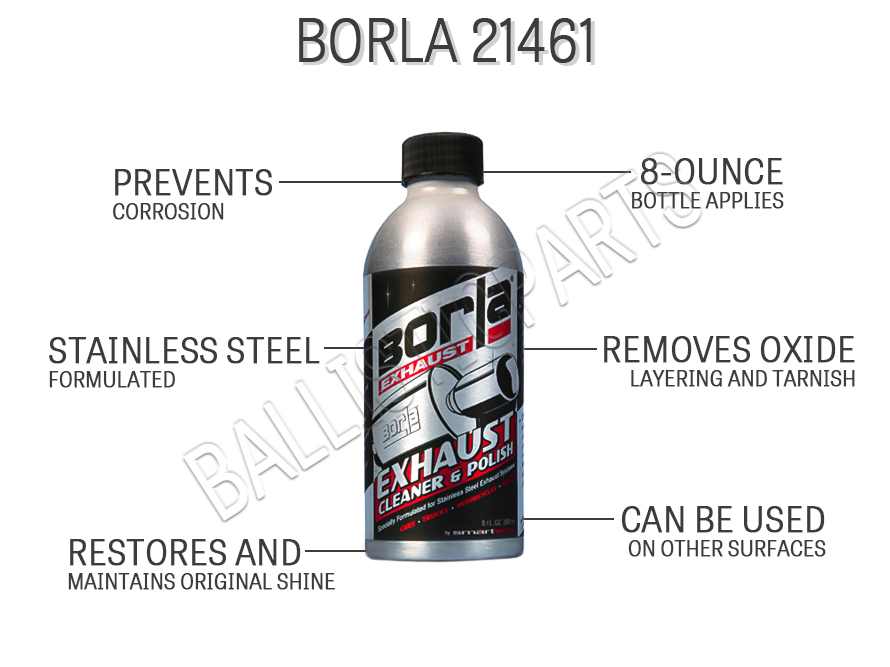 | | |
| --- | --- |
| Remove layers of Oxide | Easily |
| Bottle Applies | 8-ounce |
| Made In The USA | Yes |
| For | Stainless Steel Exhaust |
| Cleans And Polishes | Yes |
This cleaning agent can easily restore rusted metal surfaces. It also effectively smoothes out the surface without leaving any signs of corrosion. This cleaner is eco-friendly and safe for humans, which means it does not require protective equipment. An effective formula not only removes dirt but also provides long-lasting protection.
Pros
Perfect for steel surfaces
Prevents corrosion
Suitable for motorcycles
Features
Brand – Borla
Model – 21461
Surfaces – steel, copper, aluminum, chrome
Liquid volume – 240 ml
Weight – 13 ounces
This fluid can be used to remove and prevent even the most severe corrosion of motorcycle exhaust systems. It can completely restore old metal surfaces and virtually bring them back to their initial condition.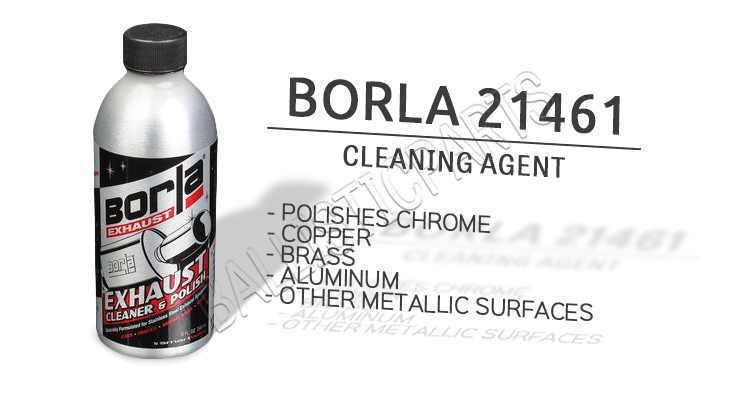 FAQ
Q: Which fabric should I use it with this solution?
A: A cotton wipe or soft cloth is the best option.
---
Kleen King – Hot Pipes Cleaner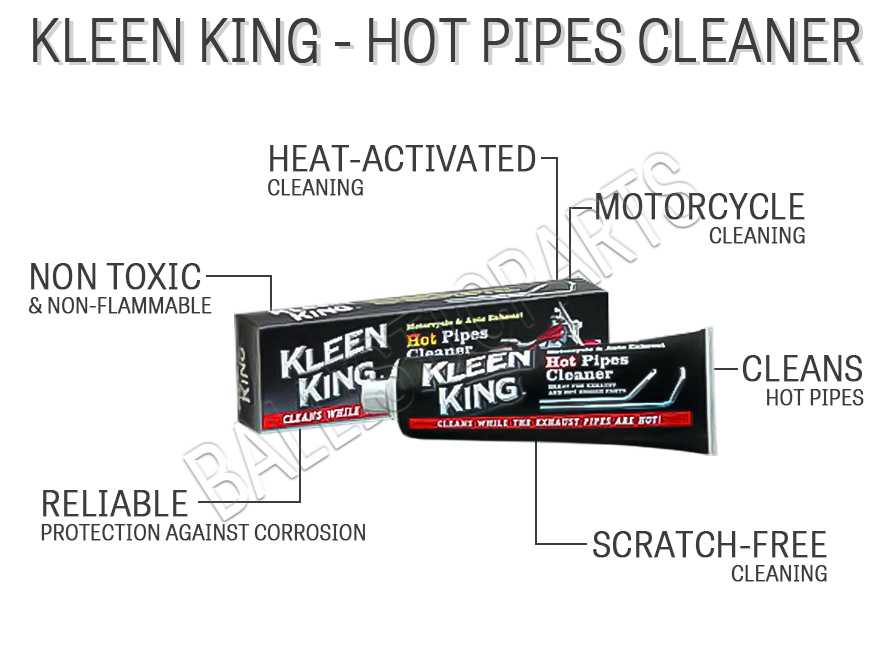 | | |
| --- | --- |
| Provides a Protective Coat On the Surface | Yes |
| Concentrated Formula | Yes |
| Non-abrasive | Yes |
| Remove | Grease, Buildup, Tarnish, Oxidation |
| Pipe Cleaner Comes | In a generous 5 ¼ ounce tube |
The Kleen King Hot Pipes Cleaner is a quite interesting non-abrasive solution for cleaning a motorcycle exhaust pipe. It does not require active rubbing to remove contaminants – cleaning components of this non-flammable and eco-friendly cleaner are activated by heating. So, to remove corrosion, rust, grease, grime, soil, tar, or other dirt from your bike's exhaust pipe, you need to apply the cleaner to the exhaust and then heat it. The pipe must be hot for effective solution performance. After all the soil is removed, just wipe the surface with a clean cloth and be careful not to touch the hot exhaust.
Pros
Does not contain abrasive substances
Eliminates almost any kind of soil
Leaves no scratches after applying
Reliable protection against corrosion
Features
Brand – Kleen King
Non-toxic
Non-flammable
Designed specifically for exhaust systems
Weight – 159 grams
The Kleen King Hot Pipes Cleaner is perfect for cleaning bike exhaust pipes. The solution activates and quickly removes oil when the exhaust pipe is hot. The cleaner should be applied regularly to maintain the proper condition of the pipes. One 5 ¼-ounce tube is more than enough for that.
FAQ
Q: How harmful is it to the environment?
A: It's a completely non-toxic solution, designed for multiple applications.
---
Blue Magic – Metal Polish Cream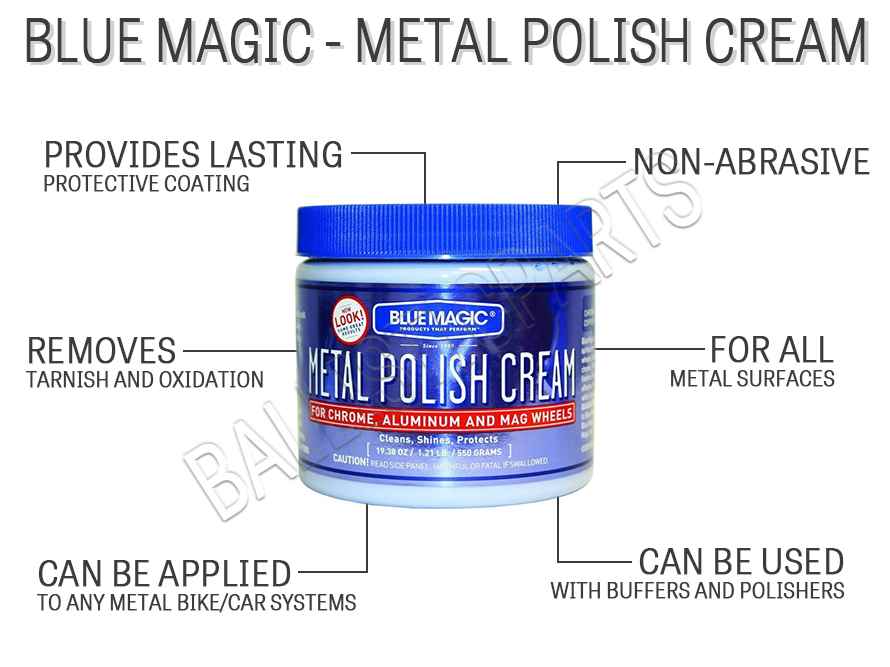 | | |
| --- | --- |
| Surfaces | For all Metal Surfaces |
| Specs | Cream Metal Polish |
| Abrasive | Non |
| Remove | Tarnish, Oxidation |
| Buffers and Polishers | Can be used |
The Blue Magic 400 7Oz Mtl Polish Cream does not contain abrasive substances but polishes chrome surfaces in the most efficient way. You can quickly eliminate oxidation and other dirt with this cleaning agent and make your bike's exhaust system shine like a mirror in the sun. Apart from steel, this product can be effectively used to clean copper, silver, and even gold.
Pros
Restores initial cleanness of dull and oxidized chrome surfaces
Can be applied to any metal bike/car systems
Makes metal surfaces stay shiny for quite a long time
Features
Brand – Blue Magic
Model – 400
Weight – 0.5 lbs
Application – 1.- 0 to 10 oz.
Application method – apply with a soft cloth
This solution is recommended for regular application if your bike's or car's exhaust system dims constantly. It does not damage the enamel and quickly removes any type of dirt.
FAQ
Q: Is this solution thick or liquid?
A: The product has a thick, creamy consistency. It is best to be applied with a soft cloth or cotton towel.
---
Autosol Metal Polish 75 ml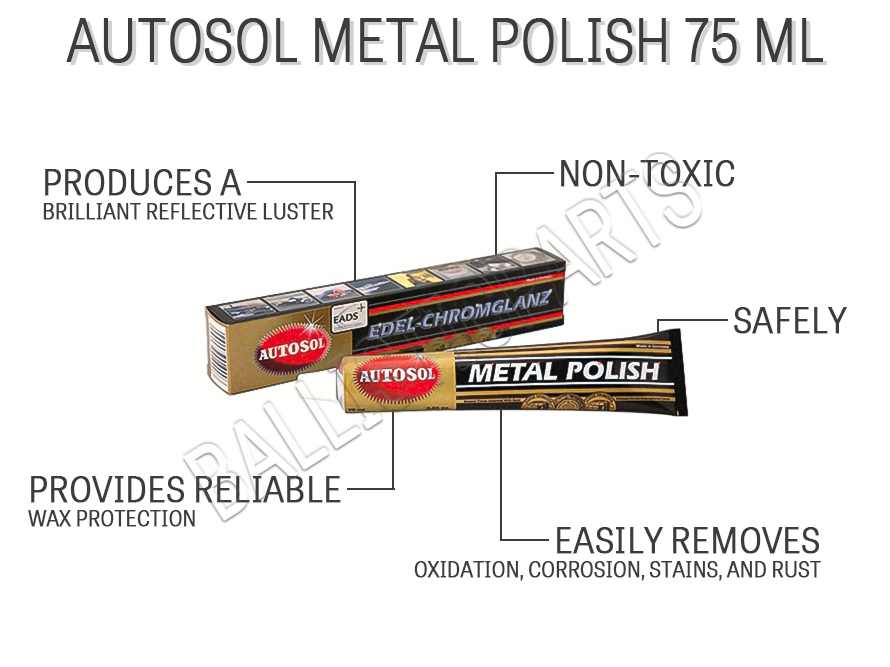 | | |
| --- | --- |
| Surfaces | For all Metal Surfaces |
| Action | Restores and Polishes |
| Protects Against | Yes |
| Remove | Dirt and Rust in One Go |
| Formulation of the | Active Ingredients |
The Autosol Metal Polish ensures your bike's exhaust system is always shiny like a mirror. It cleans metal and aluminum surfaces really fast. Corrosion, rust, tarnishing, grease, or dirt – there's nothing that this efficient cleaner can't cope with. Using it regularly, you will ensure a perfectly clean and shining exhaust pipe. This product is wax-based and is able to make any metal surface attractive after application and thorough polishing.
Pros
Versatile cleaner for any metal surfaces
Recommended by many car-enthusiasts and motorcycle owners
Provides reliable wax protection
Features
Brand – Autosol
Model – GV0400
Capacity – 75 ml
Made in Germany
This is a professional anti-corrosion cleaning agent used by famous car and motorcycle manufacturers around the world. It will help you clean the metal parts of your bike or car. It is also a highly popular Harley aluminum polish.
FAQ
Q: Can ceramic surfaces be cleaned with this polish?
A: The manufacturer recommends the solution for metal surfaces. It's not recommended for ceramics.
---
Simichrome 390050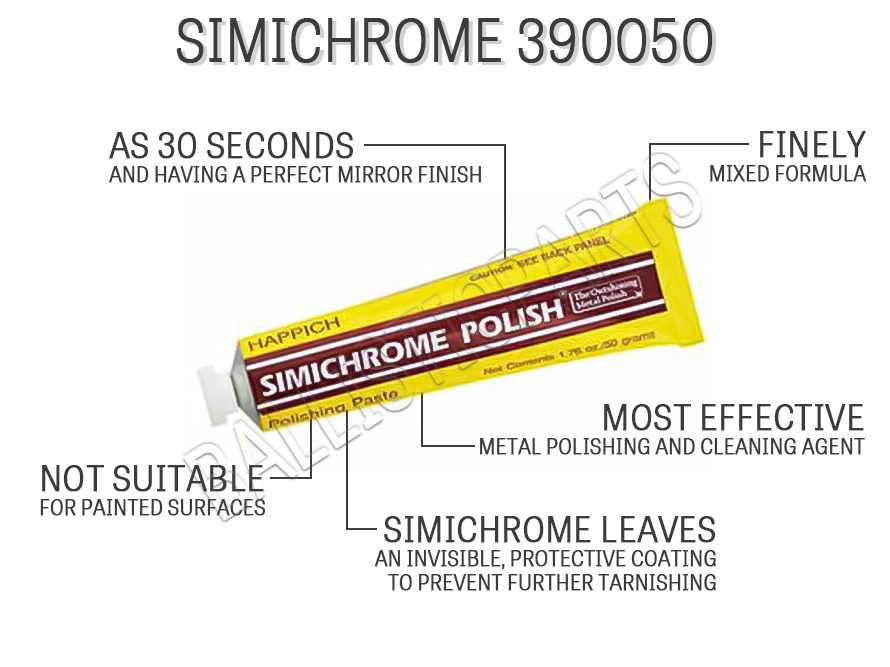 | | |
| --- | --- |
| Surfaces | For all Metal Surfaces |
| Abrasive | Non |
| Finely Mixed Formula | Yes |
| Quick Result | Yes |
| Protective Layer | Yes, Leaves Behind |
The rust remover from Simichrome is a professional solution to ensure your bike's exhaust system or other metal parts will look good as new. The cleaner quickly cleans even the oldest rust and dirt and provides a beautiful shine. This is a highly efficient metal polishing and cleaning agent that does not leave any scratches on metal and restores its initial luster. The Simichrome 390050 works really fast with chrome metal surfaces, brass, gold, silver, aluminum, magnesium, pewter, chrome, sterling, copper, and stainless steel.
Pros
Does not leave any scratches or abrasive marks on metal surfaces
Efficiently removes old rust and restores the original luster
Provides a quick and visible result
Leaves a thin layer of protective coating to prevent tarnishing
Features
Brand – Simichrome
Model – 390050
Not suitable for painted surfaces
Weight – 2.24 ounces
Dimensions – 1.35" x 5.30" x 5.30"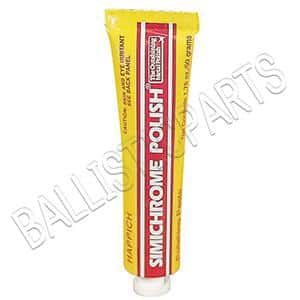 The versatility, along with fast and efficient performance, makes a lot of bike enthusiasts, as well as expert mechanics, choose this cleaning agent to apply to exhaust pipes of their motorcycles. Even a small amount of this non-abrasive solution is enough to clean a fairly large metal area. Use it regularly to always keep your bike shiny.
FAQ
Q: How much of the agent is needed to clean a small exhaust pipe?
A: It depends on the size of the surface. 5 grams are usually quite enough.
---
MEGUIAR'S MC20406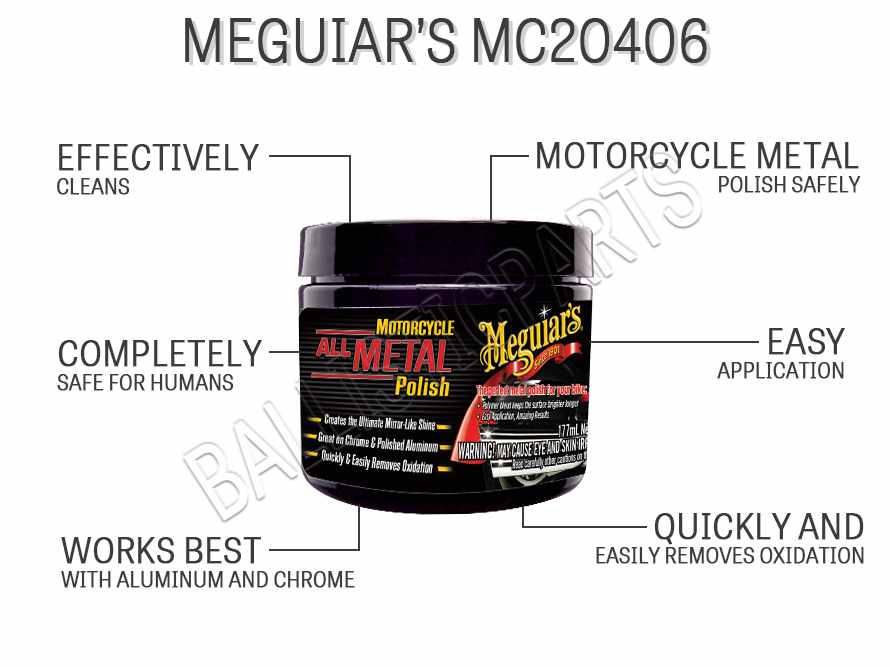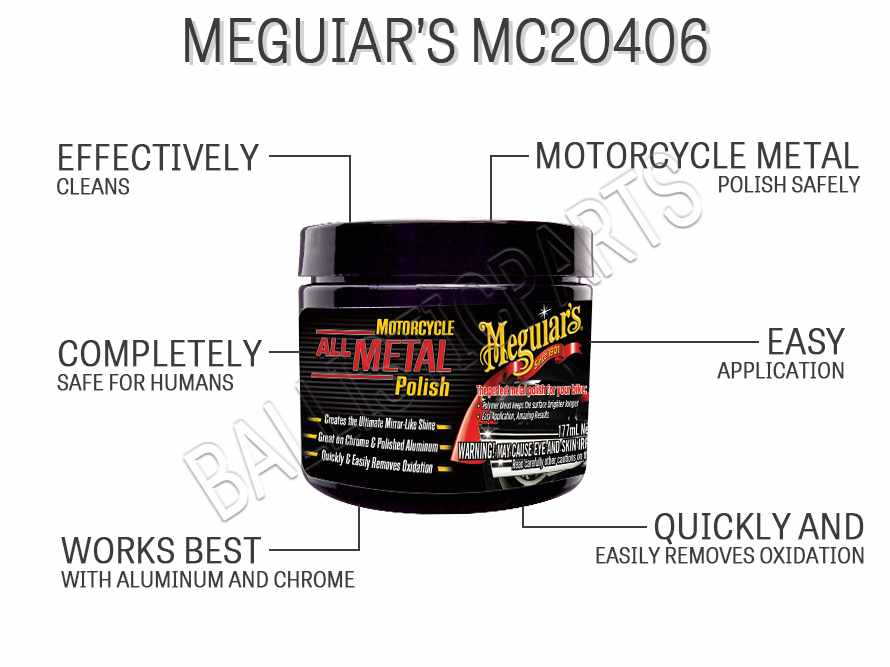 | | |
| --- | --- |
| Surfaces | For all Metal Surfaces |
| Clean and Restore | Yes |
| Shine | Yes |
| Protect | Yes |
| Polymer Blend | Yes |
A chrome exhaust pipe needs regular polishing. If there is a lot of oil and rust on the exhaust system, it is almost impossible to remove it fast. However, if you apply the MEGUIAR'S MC20406 to the chrome surface from time to time, this polish will completely remove mild oxidative reactions and rust, without leaving any abrasive marks or scratches. This efficient motorcycle polish is suitable for any type of metal and it's really easy to use.
Pros
Works best with aluminum and chrome
Contains a polymer blend to provide a longer mirror-like shine
Leaves no scratches or abrasive marks
Quickly eliminates metal oxidation
Completely safe for humans
Easy application
Fair price
Odorless
Features
Brand – MEGUIAR'S
Model number – MC20406
Weight – 0.011 ounces
The polish is great at providing a long-lasting shine to your bike's exhaust. It's completely safe and has no odors, unlike many other solutions. If you wonder how to restore your bike's chrome surfaces and get back popping reflections, this product will is the answer. Regular cleaning of the exhaust system with this polish will make you forget about oxidation and corrosion for good.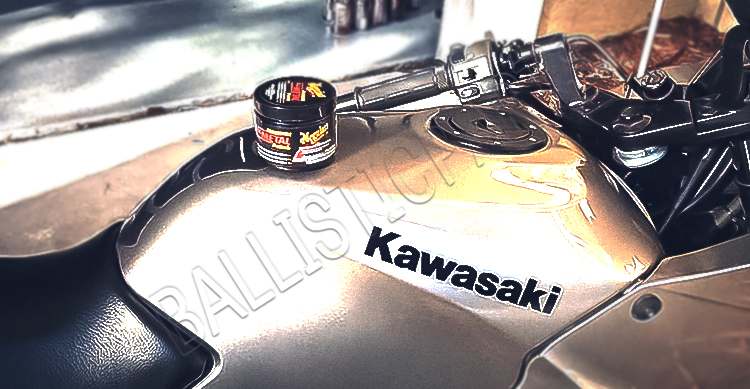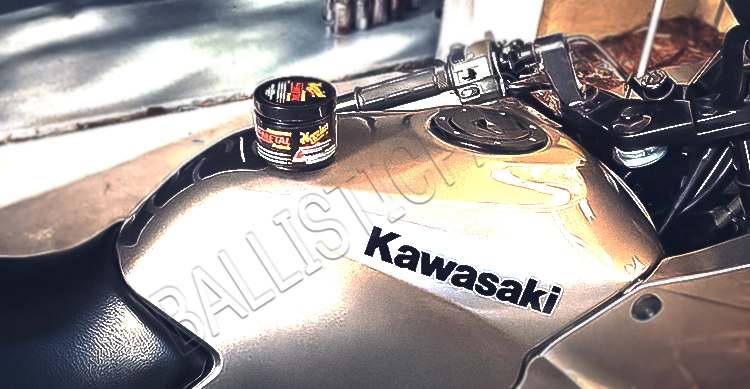 FAQ
Q: How quickly does the solution work?
A: It only needs about five minutes. After that, you will notice the result.
---
Blue-Job Chrome Polish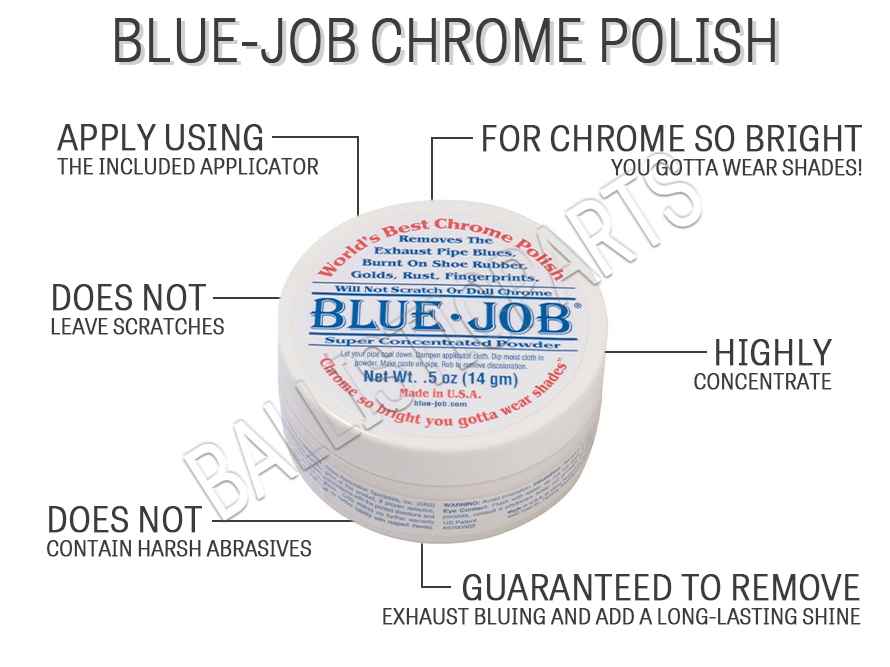 | | |
| --- | --- |
| Surfaces | Metal, Chrome |
| ONE polish for ALL | Cleans, polishes, restores |
| Abrasive | Non |
| Removes | oxidation, tarnish, rust |
| Scratch on Metal | Will Bot |
This is a 3-in-1 solution to make your bike's exhaust pipe look perfect. Not only does it clean the surface, but also restores its original shine. In addition, the chrome polish smoothes out any problematic areas, making exhaust pipes perfectly even and clean. Use this solution with an included applicator or a slightly damp cloth to apply and clean the metal surface.
Pros
Multifunctional polish (clean, polish, restore) for chrome surfaces
Does not contain harsh abrasives
Does not leave scratches
Features
Brand – Blue-Job
Model – 204
Consistency – white powder
Recommended for use with microfiber
Weight – 28 g (1 oz)
The polish was designed to restore, clean, and polish chrome motorcycle parts. This product is not suitable for other metals, painted or plastic surfaces.
FAQ
Q: Will this powder clean a headlamp?
A: It cannot be used with plastic or glass. This polish is designed only for chrome metal parts. So it's best to not apply it to headlights.
---
Chemical Guys MTO10616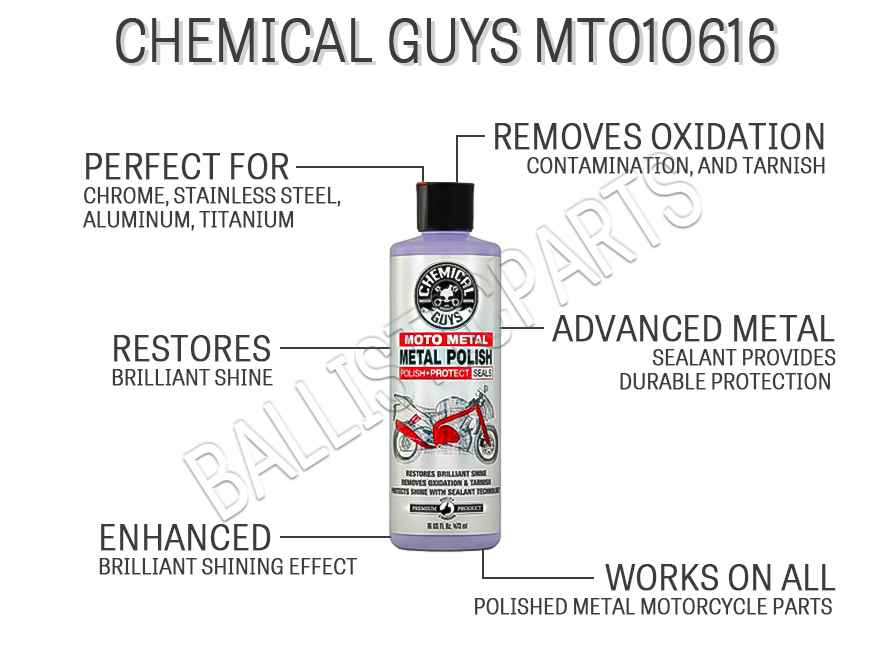 | | |
| --- | --- |
| Surfaces | chrome, steel, aluminum, titanium |
| Durable Protection | Yes |
| Removes | oxidation, contamination, and tarnish |
| Restores brilliant shine | Yes |
| Work by hand or machine | Yes |
Chemical Guys recommends using this polish to work with any metal parts of a motorcycle. The MTO10616 effectively copes with oxidation, tar, grease, soil, and other harmful elements. If your bike's exhaust pipe has signs of severe corrosion, this solution may not be effective, though. This is a great way to keep your motorcycle exhaust system clean on a regular basis.
Pros
Metal sealant provides durable protection
Protects and polishes chrome parts, restores shine
Enhanced brilliant shining effect
Perfect for chrome, stainless steel, aluminum, titanium
Features
Brand – Chemical Guys
Model – MTO10616
Designed for metal surfaces
Capacity – 16 fl. oz
Weight – 1.3 oz
This simple polish can be safely used to clean a bike's exhaust pipe and other metal parts such as steering wheel, frames, and forks. Its composition also features an advanced metal sealant for additional protection and durability.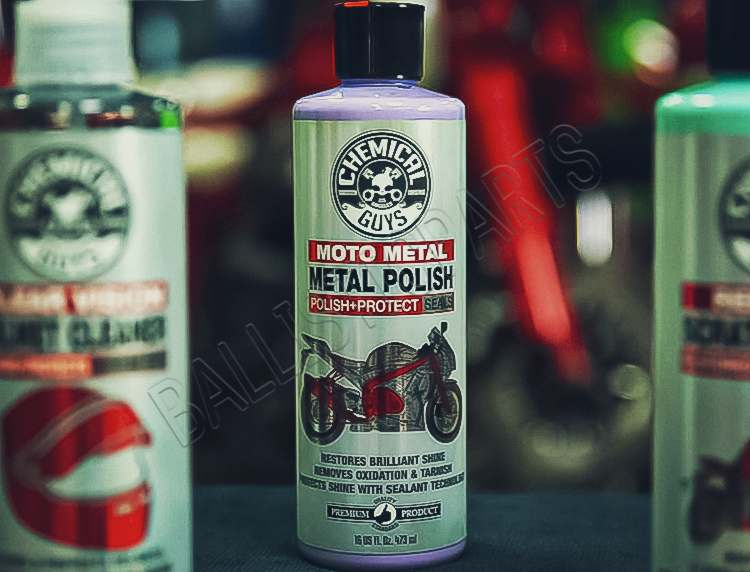 ---
Renegade Products Rebel Pipe Dream 12 oz
| | |
| --- | --- |
| Surfaces | Chrome |
| Formula | Wax and Micro-abrasive |
| Micro-abrasives | Yes |
| Protect | Yes |
| Action on Chrome | Conditioner and cleaner |
The Renegade Products USA Rebel Pipe Dream 12 oz Chrome Polish Conditioner and Cleaner is a professional solution for removing dirt on chrome exhaust pipes. It allows you to quickly achieve the perfect shine on any chrome surface, including wheels, stacks, grills, bumpers, and other car or bike parts. This polish contains microscopic abrasive particles that gently polish metal parts and coat them with a special wax. This combination allows you to maintain a surface shine for a long period.
Pros
Designed for polishing chrome parts
Polish + wax formula
Recommended for new chrome parts
Long-term surface protection
Features
Brand – Renegade Products USA
Model – 8542149530
Weight – 12 oz

This solution effectively removes any oxidizing or grease on a bike's exhaust pipe. Note that it does not eliminate color stains formed under high temperatures. The manufacturer has several product options that effectively reduce pollution and protect chrome surfaces.
FAQ
Q: What fabric should I use with it?
A: It is recommended to use special wipes from the manufacturer. They will allow you to use this solution as effectively as possible. If you can't get those, use a cotton cloth or microfiber.
---
Conclusion
---
The best motorcycle polish always contains abrasive particles that eliminate most of the dirt but do not leave abrasive marks and scratches. In addition, a high-quality cleaning solution should contain special wax to provide a long-lasting shine and protection. Some cleaning agents can eliminate thermal oxidation on chrome, while others can't. Therefore, to clean a dirty exhaust system, you will need at least two solutions: one for removing rust and corrosion, and the second one for eliminating stains caused by extreme temperatures.
---
FAQ
---
What is the best chrome polish for motorcycles?
The chrome polish can be used for different types of pollution. If cleaning light stains is not enough, it's better to use a solution that can eliminate rust and corrosion. One of the best chrome polishes is produced by Quick-Glo, which quickly removes rust and pitting corrosion.
Some of the best products on the market can quickly and efficiently eliminate stains and oxidation marks on chrome pipes. Chemical Guys and Renegade Products are leaders here. These manufacturers have less aggressive abrasives which not only eliminate dirt but also provide a long-lasting shine and increase the service life of the entire exhaust system.
How to polish chrome motorcycle exhaust?
The most efficient way is to use two cleaners. However, it always depends on the type of pollution. If the exhaust pipe does not have heavy rust areas, it's enough to use any multifunctional agent to eliminate the problem. The cleaning procedure also depends on the type of cleaning agent. Thus, if you use the Kleen King Hot Pipes Cleaner, you should apply the cream to the pipe, start the motorcycle to make the exhaust hot. This solution activates at high temperatures. It literally dissolves oil, grease, and dirt.
Other solutions require a cotton or microfiber cloth. You can apply a sufficient amount to a cloth and start polishing in small circular motions until the surface is completely clean. A large exhaust pipe should only be cleaned gradually, spending about 3-5 minutes on each section of the pipe. The total cleaning procedure can take up to 40 minutes.

What is the best polish for motorcycles?
When choosing the best chrome polish for rust and corrosion removal, pay attention to its composition. It should be a non-toxic odorless substance. The best motorcycle polishes always contain microscopic wax-based abrasive particles, which allows you to effectively remove almost any type of dirt on chrome surfaces and provide reliable long-term protection. The regular use of a high-quality solution will allow you to avoid any problems with the exhaust system and always keep it mirror-like shiny.
What is the best way to polish chrome surfaces?
Use a special mild-abrasive cream or powder that quickly deals with rust and dirt. Apply a sufficient amount of solution to a microfiber cloth. It is even better to use a special polishing device during the process. It will speed up the process and ensure a perfect result. At the end of the procedure, you should wipe the chrome surface with a clean, soft cloth to remove the remaining cleaning agent.