The lighting on the motorcycle should be bright, but it should not blind other drivers. That's why motorcycle headlights usually have little power compared to car ones. Best motorcycle driving lights typically have the power within 40 watts. This is often the combined power from each motorcycle led headlight bulb.
Almost all motorcycle lights have several modes, including passing and driving beam. They are connected through the motorcycle aux switch and perfectly complete any other lighting on the motorcycle. If there are no lights on the bike, the headlights from third-party manufacturers can completely replace them due to their functionality and sufficient power.
If you are looking for something like Denali lights, I recommend taking a closer look at the headlights from RUN-D or ROUP, but other options can also be a good choice for your most stylish bike.
---
List of Top-Rated Motorcycle Driving Lights
---
---
Reviews of the Motorcycle Driving Lights
---
GOODKSSOP 4354235804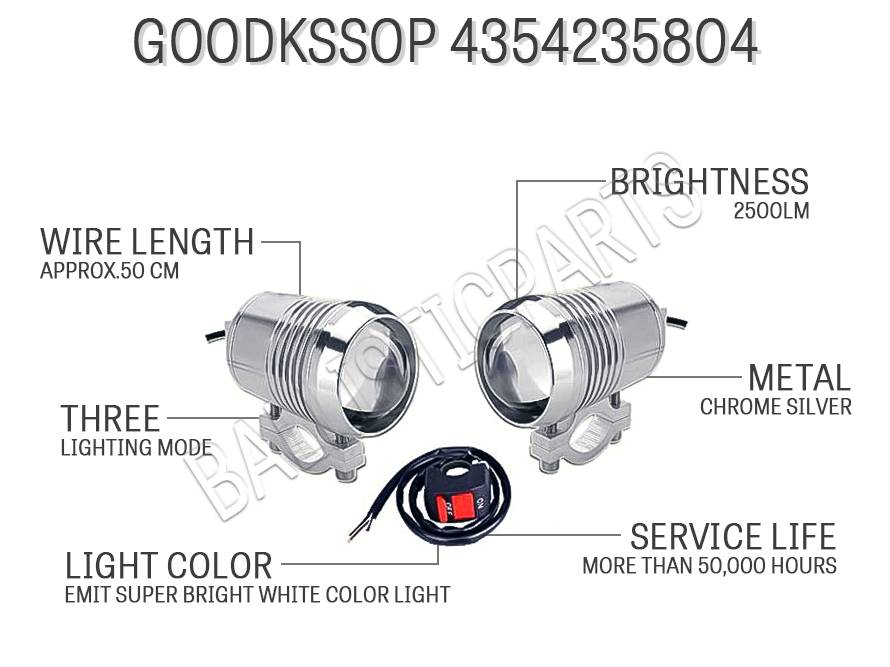 These headlights are made using the latest LED technology. They can illuminate the road in any weather at a distance of up to 200 m. The lamps have sufficient power and do not consume much energy. The housing is made of aluminum to protect the system from corrosion.
Voltage
Power Light
Power Color
Material
Lighting Modes
Long Life Time
Easy to connect
Button Switch
Projected distance
Save a lot of energy
Extremely bright
Wire connection
Light Power
12V-80V with wide Universal
2500 LM
6000-7000 K
Metal Aluminum Alloy
Upper beam, Low beam, Flash
Yes
Yes
Yes
100-200 m
Yes
Yes
2
U2 30W

Pros
affordable price
consume little electricity
effectively illuminate the road in all weather conditions
guaranteed service life – more than 50,000 hours
IP68 protection
Features
lighting range up to 200 m
aluminum housing
maximum power – 30 W
item weight – 7 ounces
manufacturer – GOODKSSOP
These great headlights are designed to fit any motorcycle. They are easy to install and do not require additional maintenance. Lamps are economical and effective at the same time. Using these headlights, you will increase your level of safety on the road.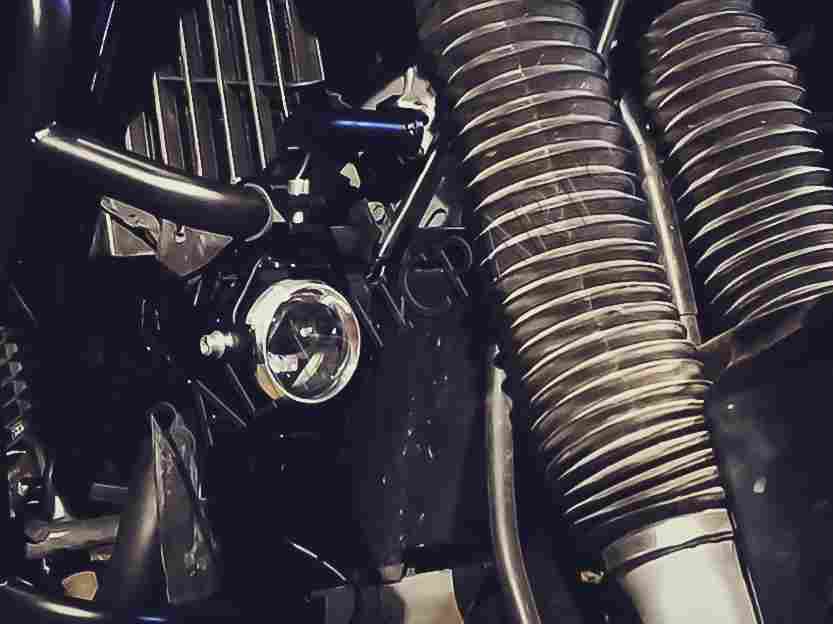 How to install these lights on a motorcycle?
– The headlights can be mounted using a special clip supplied with the kit.
---
RUN-D YD-DL-35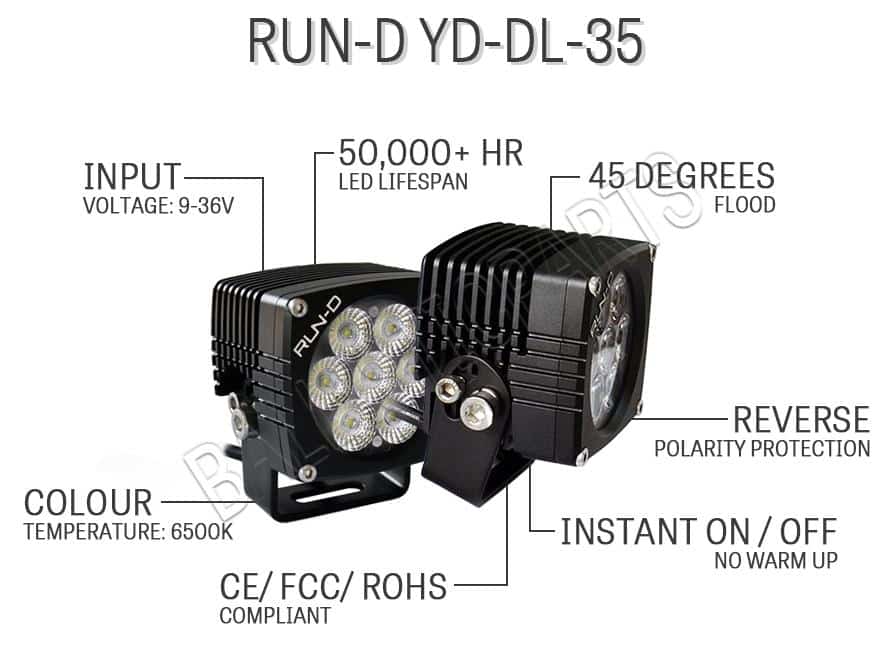 These headlights consist of 7 LEDs with a total power of 35 W. They are protected by a durable transparent polycarbonate lens. These are reliable headlights with a sturdy aluminum housing. They can resist mechanical stress, and also operate during rain. These lights turn on instantly and feature effective protection against overheating.
Pros
perfect for off-road use
high-quality polycarbonate lens
completely water-resistant, can be used in the rain
minimum service life – 50,000 hours
Reliable surge protection
Features
lamp color – white LED
product weight – 3.15 pounds
power – 35 W
voltage – 12 volts
manufactured by RUN-D
These LED blocks are designed to fit motorcycles. In addition, they are suitable for large vehicles, boats and can even be used for household purposes. The lamps are useful both on the track and on the road.
How many built-in lighting switching modes are there?
– Headlights work in one signal rotary mode. Other modes are not available.
---
AAIWA D03020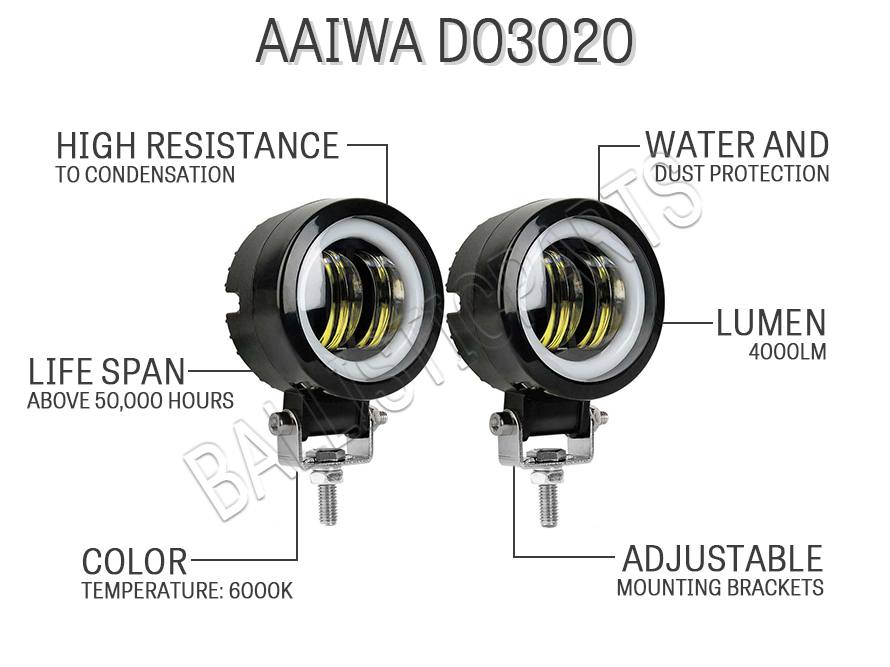 Headlights from AAIWA stand out with their high-quality aluminum housing that protects the LEDs and built-in lens from mechanical damage. The lenses have a light power of 40 watts. These are the best motorcycle fog lights on the market resistant to overheating and condensation. A powerful and bright light can illuminate the road at a great distance. The Angel Eye system emits a pleasant blue light to help in various weather conditions.
Pros
super-bright light with a high-quality transparent lens
water and dust protection
high resistance to condensation
resistant to vibrations and shock
Features
type – fog headlights
main light – white, with blue navigation lights
diameter – 3 inches
maximum power – 40 W
company – AAIWA
These headlights are perfect for those who love traveling with no worries in any weather. These stylish and powerful headlights can resist dust, condensation, and intense vibrations when driving on the road. Thanks to a high-quality transparent lens, the lights emit a very bright white light that illuminates the entire road, as well as the off-road area. LED headlights are easy to install and use.
Are there additional mounts in the kit if the standard ones do not fit?
– The mounts must be purchased separately, the kit only includes headlights.
---
Round LED FGL2011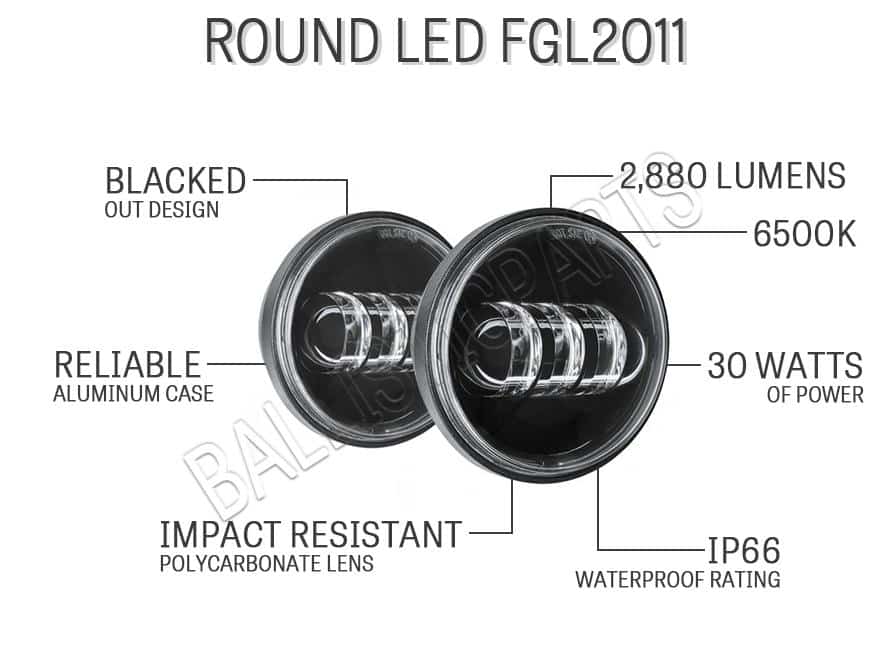 | | | | |
| --- | --- | --- | --- |
| Harley Fog Passing Light | Black – w/Halo | FGL2022 | Check Price |
| Harley Fog Passing Light | Chrome – w/Halo | FGL2052 | Check Price |
The offered headlights have a well-designed hot air exhaust system that provides quick cooling. They support 3 lighting modes: low beam, fog, and auxiliary high beam. The product has a long service life.
Pros
Designed specifically for Harley Davidson motorcycles.
IP66 protection
reliable aluminum case
strong lens, resistant to external influences
Does not bring discomfort to oncoming drivers
Features
type – fog beam
ultimate power – 30 W
light temperature – 6500 K
size – 4.5 inches
approximate kit weight – 1 lb
manufacturer – ONLINE LED STORE
The lamps are easy to install and remove and can be used with standard mounts without additional parts. The headlights look very stylish, and a darkened lens will emphasize the aggressiveness of your motorcycle.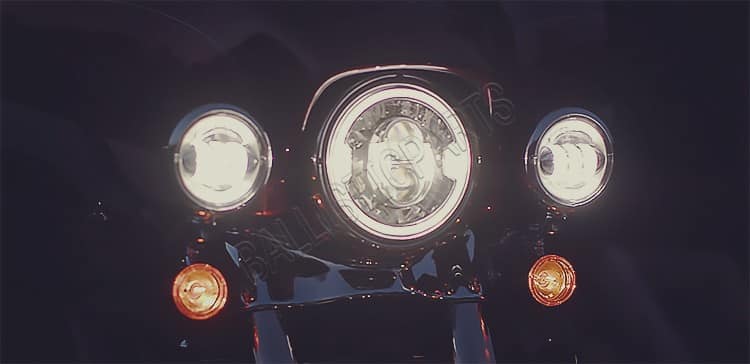 Does the darkened case affect the brightness level?
No, it does not. The headlight has a transparent lens and powerful LEDs that provide bright lighting.
---
AAIWA Motorcycle LED Auxiliary Light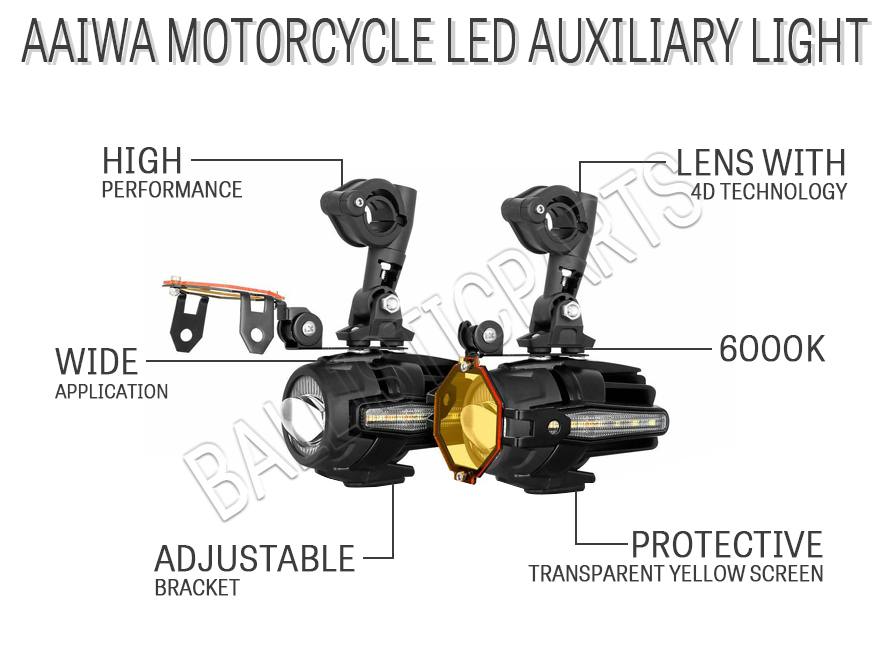 The headlights are compatible with many Honda motorcycle models. The price of the product corresponds to its quality. The main advantage of such lamps is the ability to adjust the color of the lamps. Using an additional transparent yellow cover plate, you can get a warm light. Also, these lights have flexible mounts that allow you to rotate the LED in any direction. The manufacturer provides 3 lighting modes, which will improve visibility on the road in any weather.
Pros
protective transparent yellow screen
functional mounts that rotate 360 ​​° to the right and left, and 180 ° up and down.
3 light modes: driving, passing and turning
Features
lens with 4D technology
set weight – 3.98 pounds
light concentration – 3600 lumens
brand – AAIWA
LED lights have a very high-quality lens with a 4D effect to improve the luminous flux and illuminate the road wider. The lamps can be set in the right direction using the flexible mount. These lights are easy to install – you do not need to drill extra holes.
Can a headwind turn the lamp away? Are the mounts strong or not?
Thanks to the well-designed system of rotation, the airflow can't move the lamp.
---
ATOPLITE 4350368847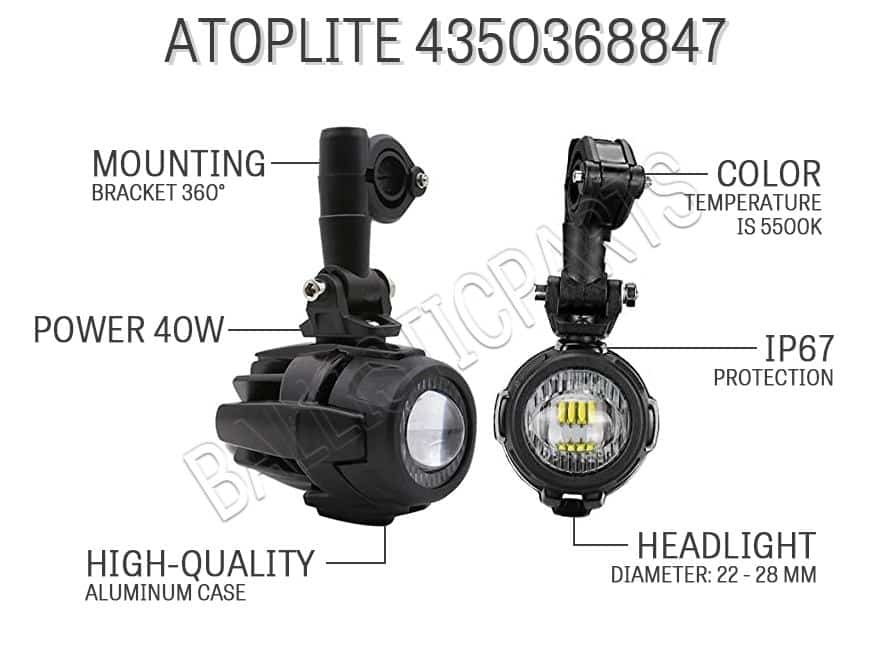 Universal headlights are ideal for installation on various models of BMW and HONDA motorcycles. You will be pleasantly surprised by the quality of the product at its price. The headlights are made of high-quality aluminum. You can adjust the direction of light using the mounts. The guaranteed period of use is more than 30,000 hours.
Pros
IP67 protection
robust mounting system to adjust the headlight direction
high-quality aluminum case
Features
maximum power – 40 W
number of LEDs – 8 pcs.
headlight diameter – 22 – 28 mm
White color
trading company – ATOPLITE
A classic round LED floodlight gives your motorcycle a discreet look. The headlights have protection from dust and water (IP67) to improve the quality of lighting and prolongs the period of use. The power consumption of the lamps is 40 W, and the color temperature is 5500K.
What is the radius of headlight rotation?
The headlight has 360-degree heading adjustment
---
ZW Homeland Driving Lights (BADASS SHARKS)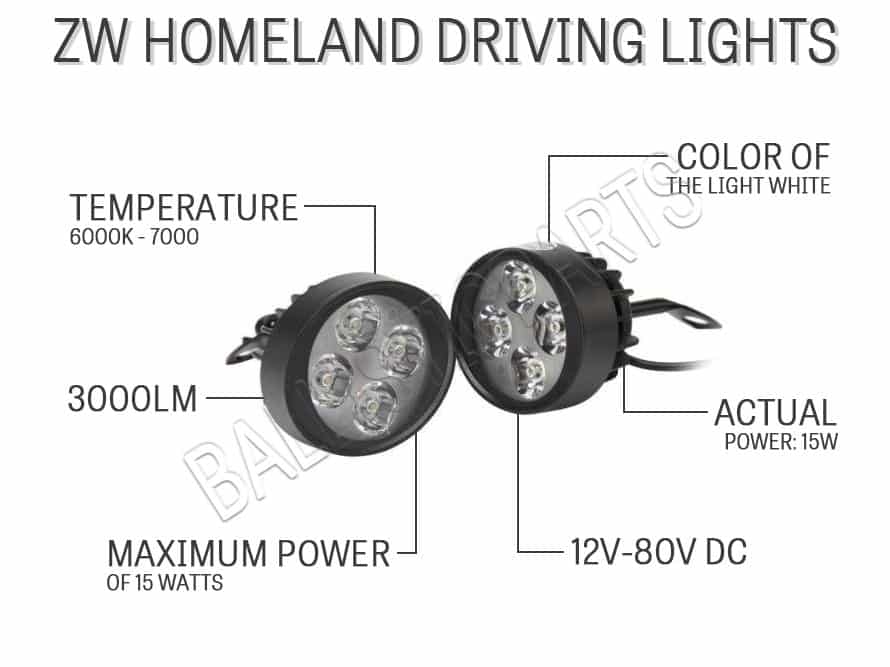 We would like to present to you the headlights from BADASS SHARKS. These are universal LED headlights that work as fog beam and also have a high beam mode. The housing consists of high-quality black material. Each lamp includes 4 LEDs with a maximum power of 15 watts.
Pros
illuminating distance – more than 100 meters
temperature of LED light – 6000K – 7000
Features
number of LEDs – 4 pcs
color of the light – white
set weight – 7.2 ounces
product power – 15 W
production – BADASS SHARKS
These are high-quality and inexpensive headlights for additional lighting. They will become indispensable helpers on the road. They illuminate the road at a distance of 100 meters. The lamp housing is slightly oval. The maximum voltage consumption is 80 volts.
Is there a cable for connecting these headlights?
Yes. The manufacturer provides a 60-cm cable.
---
Ourbest 40W-SL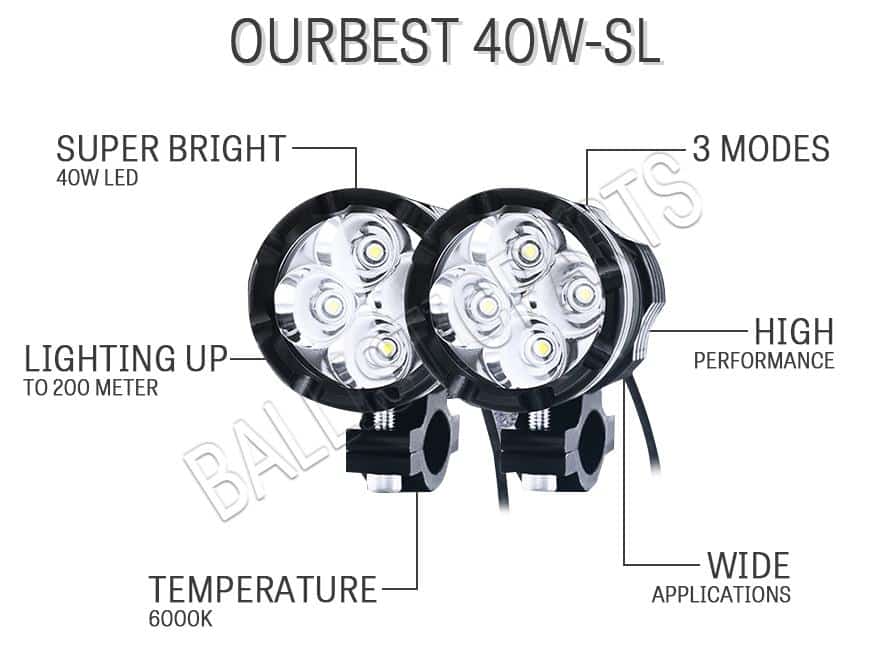 If you select these headlights for your motorcycle, your choice will be right! Such headlights are easy to install and do not require any extra effort. They have 3 lighting modes to increase your safety on the road. LEDs have high-quality protection against moisture, dust and are resistant to mechanical damage. The manufacturer guarantees a long period of use.
Pros
IP68 protection
2 modes – driving/passing beam.
lighting up to 200 meters
a special switch is included
Features
Approximate kit weight – 1.25 pounds
power consumption – 40 watts.
light temperature – 6000K
produced by Ourbest
This is a professional solution that provides enough lighting when driving any motorcycle. The headlights can be mounted with a clip of a diameter of 17 mm. With a simple and intuitive wiring diagram, you can quickly complete the installation yourself in your garage.
How many LEDs does each lamp have?
– The lamp has 4 LEDs with a capacity of 10 watts each. The total power of the lights is 40 watts.
---
PAKRYS LMLU5BKA2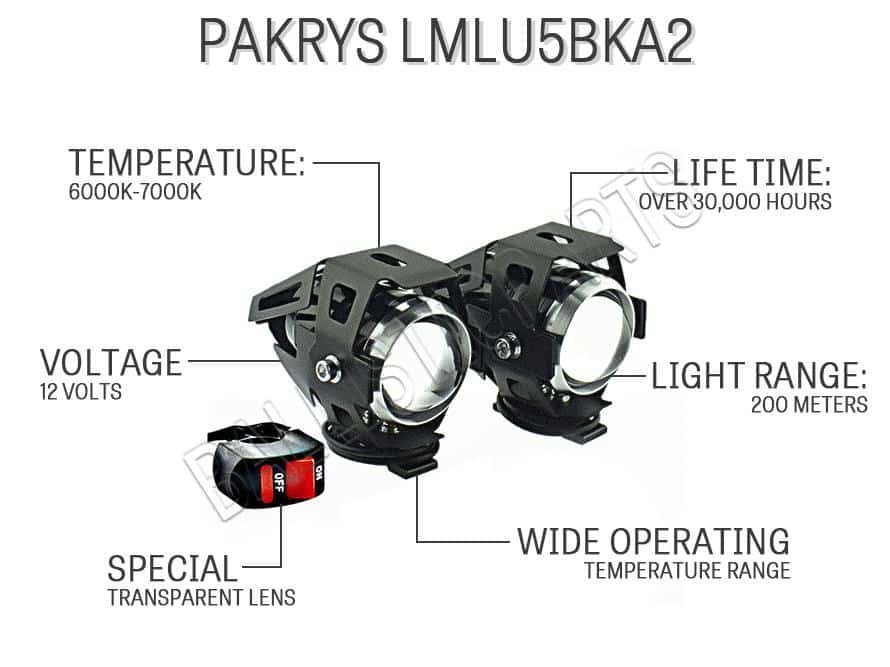 | | | |
| --- | --- | --- |
| U5 Motorcycle Headlight Black 3 Modes | LMLU5BKA2 | Check Price |
| U5 Motorcycle Headlight Silver 3 Modes | LMLU5SRA2 | Check Price |
The presented universal lights are designed for various motorcycles. They consume a little energy and can provide a good level of lightning. The total power of the headlights is 125 watts. They have three modes. The non-standard mode is the stroboscopic one, which should not be used if there are oncoming drivers on the road. The driver and passing modes allow you to see the road in the dark.
Pros
wide operating temperature range
lighting range – up to 200 meters
special transparent lens
Features
total power 125 W
voltage 12 volts
kit weight about 1.5 lbs
created by PAKRYS
The warranty period for LED lamps is 30,000 hours. It is less than that of many other manufacturers, but the unusual shape and high-quality clearwater lights lens can compensate for the warranty period. The kit comes with two lights, a switch, and the necessary parts for installation.
How to change lighting modes?
– They change sequentially. To switch, you need to turn off the lamps and turn them on again. Each time you turn on, the lighting modes will be activated one by one.
---
ROUP YPH-100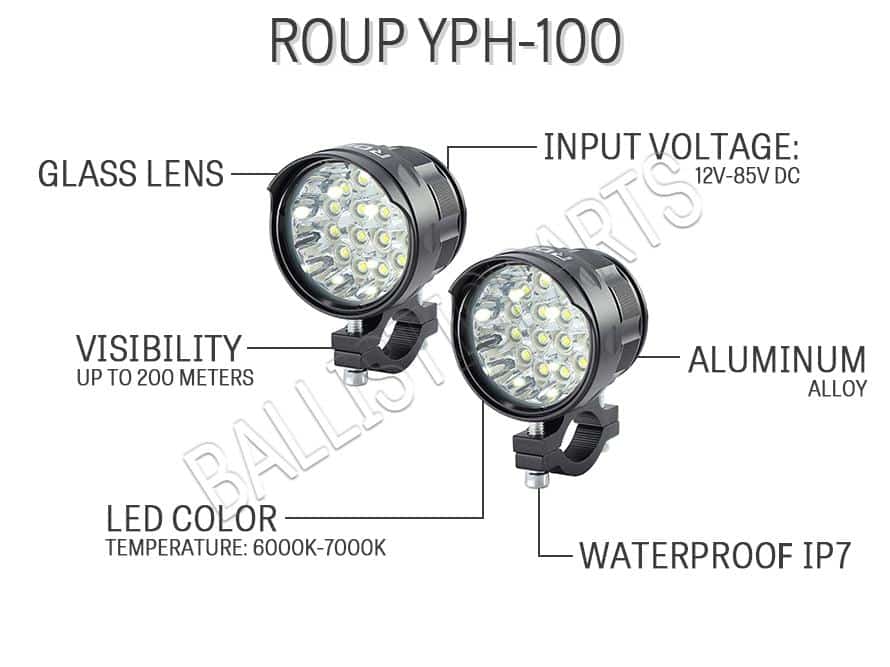 The offered lights consist of a sufficiently large number of LEDs, which allows you to get uniform light. Despite the small total power of the LEDs in one lamp, the lamps create bright light for a safe ride and long-distance visibility in almost any traffic condition thanks to a high-quality glass lens.
Pros
enhanced protection against all external negative factors
visibility – up to 200 meters
Features
glass lens
voltage – 12 volts
total power of one headlight – 25 W
wire length – 90 cm
16 LEDs per lamp
weight – up to 2 pounds
manufacturer – ROUP
These lights are ideal for off-road motorcycles, jeeps, and even boats. They have a reliable and simple locking system and can be used even on the roads without any restrictions. Flashlights are small in size. They look very neat and give out a powerful light flux at the same time.
Is it possible to put these headlights on new motorcycles of 2019?
Of course, it is. They look very compact and give good lighting. They are easy to install and connect.
---
Conclusion
---
To sum up, please note that many manufacturers make fairly strong lights that can be used as full-fledged headlights on any motorcycle. Such illuminators have a total power of about 40 W and several operating modes, including passing and driving beam. If you want to improve lighting on a motorcycle slightly, in this case, there are also plenty of options to choose from. Auxiliary headlights expand functionality and make lighting more intense. Some manufacturers offer small and less powerful flashlights as auxiliary ones, which also have several modes or signal lights feature. In some cases, you can find pod lights for motorcycles that work perfectly on a bike and other vehicles or in everyday life.
---
Frequently Asked Questions
---
What are the best LED lights for motorcycles?
Best led headlights for motorcycles always have fairly good performance indicators. They must be at least 20 watts. In addition, the best flashlights always have a high level of protection against rain, dust, and overheating. Today, many headlights have reliable cooling systems that significantly extend the life of LED lamps. If you are looking for the best flashlights, also check a guaranteed lifetime. Usually, it is up to 50,000 thousand hours.
When choosing headlights, it is also important to pay attention to their design. Some systems can be quite large in size. Sometimes the headlights are small and not particularly noticeable. It's rather difficult to point out any specific lights as the best ones. Take a look at the front lights from PAKRYS, AAIWA, and GOODKSSOP.
What is the brightest headlight for a motorcycle?
Most often, manufacturers offer fairly powerful lights. Their total power is within 40 watts. These can be lights from Ourbest or ATOPLITE. Their power may be enough to ensure a safe drive on a motorcycle in the dark. If this lighting intensity is not enough for you, you should take a closer look at the lamps from PAKRYS. Their lights have a power of 125 watts, and they are the most powerful motorcycle headlights.
What are passing lights on a motorcycle?
The passing beam lights are an integral part of any motorcycle. They are used in heavy traffic both on the highway and in the city. Their power is quite small, which allows them to provide visibility in front of the motorcycle and not to blind drivers of oncoming vehicles. If you only need passing beam headlights, you should pay attention to auxiliary lights from BADASS SHARKS. Their power is only 15 watts, but this is enough to provide visibility up to about 50 meters.
How do you put an auxiliary light in a motorcycle?
Auxiliary lights provide you with better and stronger illumination of the roadway. Several manufacturers present excellent additional equipment, like AAIWA and ONLINE LED STORE lamps. They have low power and can be used when driving around the city and on off-road vehicles.
Such lamps are usually installed using standard mounts with an approximate diameter of 17 mm. They are simply clamped on the steering wheel quite securely. There are almost no other mounting options for auxiliary lights. 4.5-inch ONLINE LED STORE headlamps are installed as the main ones in the Harley Davidson motorcycle headlight housing.