A motorcycle seat is the element determining driving comfort even in the city, not to mention long trips. A high-quality seat allows you to ride for a long time without feeling tired. Not only does this apply to the motorcyclist, but also to the passenger. There is a wide range of best motorcycle seats from third-party manufacturers, from classic retro seats to modern ultra-comfortable options.
Some seats are designed for specific motorcycles or brands. For example, Yamaha motorcycle seats are usually very different from the seats of many Harley models. When choosing the best seat, you should always check the compatibility with your motorcycle model. Other motorcycle seats are universal and can be mounted on almost any cruiser or city motorcycle.
Please note that custom motorcycle seats can be more comfortable and better suited for a motorcycle, but many of them cost a lot of money. Here you can choose the available seats, featuring high-quality materials and comfort.
---
List of Top-Rated Best Motorcycle Seats
---
---
Reviews of the Best Motorcycle Seats
---
Sargent WS-573-19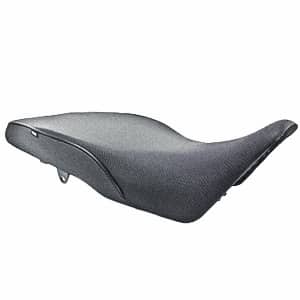 This motorcycle rear seat is made of high-quality materials for high-speed driving. Dense microfoam creates a fairly strong resistance and adjusts itself to suit the motorcyclist. The seat cover is resistant to the harmful influence of UV and water. The vinyl layer resists mold.
Pros
light and elastic seat, adjustable shape
Designed for Kawasaki KLR650 from 1987 to 2018
resistant to mold and sunlight exposure
Features
black color
position – back seat
parcel weight – 7 pounds
manufacturer – Sargent
This seat is made specifically for sports motorcycles. It adds more confidence when maneuvering. If you are looking for a comfortable and durable rear seat for sports riding, this is an excellent option.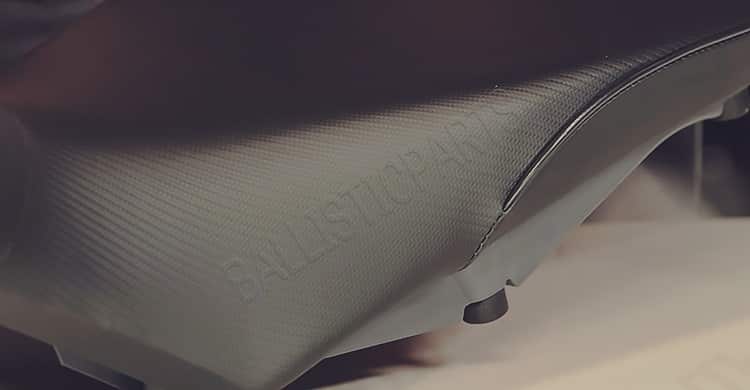 Is the seat adjustable on the horizontal axis?
– The seat is designed for Kawasaki KLR650 motorcycles from 1987 to 2018 and is completely suitable for them. You can minimally adjust the position on the horizontal axis.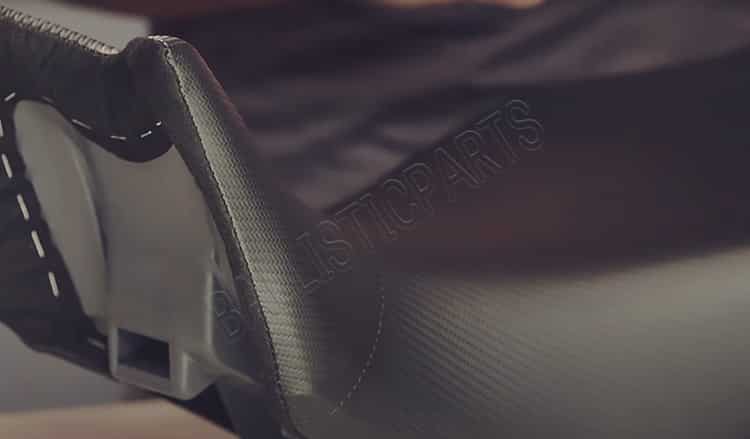 ---
AIRHAWK FA-AH2MED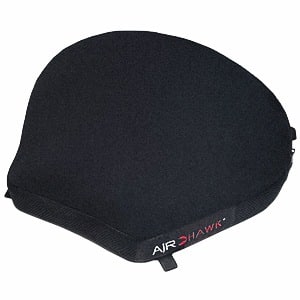 This is an unusual inflatable rear seat designed for long trips. It is quite soft and can easily absorb both small vibrations and quite strong impacts when driving over rough terrain due to several inflatable sections. The seat trim allows it to breathe. The polyurethane protective coating resistant to sunlight and does not slip at all.
Pros
perfectly absorbs strong vibrations
inflatable system
several inflatable sections
reliable external coating
Features
black color
type of motorcycle – cruiser
kit weight – 1 lb
manufacturer – Bullet Proof Designs
If you need a practical and lightweight seat for a long ride, this inflatable kit is a perfect option. The seat does not slip and is well-ventilated. It can withstand intense pressure and cope with absorbing any vibration.
Is it possible to inflate the sections with a pump?
– The seat can be easily inflated with the mouth, but you can inflate it with a pump. But we don't recommend using too powerful one. Do not inflate the pillow with the pump too much so that it does not burst.
---
Mustang 79006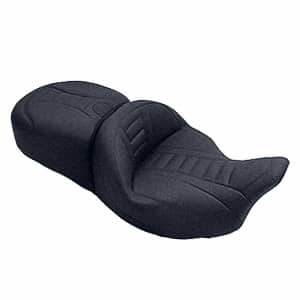 This comfortable seat is in demand among motorcyclists who often carry passengers. The double comfort seat is designed for long trips and has several advantages. The seats are made of non-slip, water-resistant, breathable materials. This is the most comfortable seat at a very reasonable price.
Pros
extra comfortable seat for long trips
provides two seats (one for the rider and one for the passenger)
soft and reliable
suitable for a vast range of Harley Davidson motorcycles
Features
black color
a place for a motorcyclist and a passenger
for Harley cruiser motorcycles
weight – 16 pounds
manufacturer – Mustang
The driver also has the opportunity to lean on the back, but it should be purchased separately. In fact, these are the best mustang motorcycle seats for cruiser travels among all the Harley-Davidson motorcycle seats on the market. By installing it, you literally get a whole comfortable chair on your motorcycle.
Is it too soft?
– This seat is the most comfortable for a long ride. It is soft, but it holds its shape perfectly and effectively absorbs any shocks and vibrations.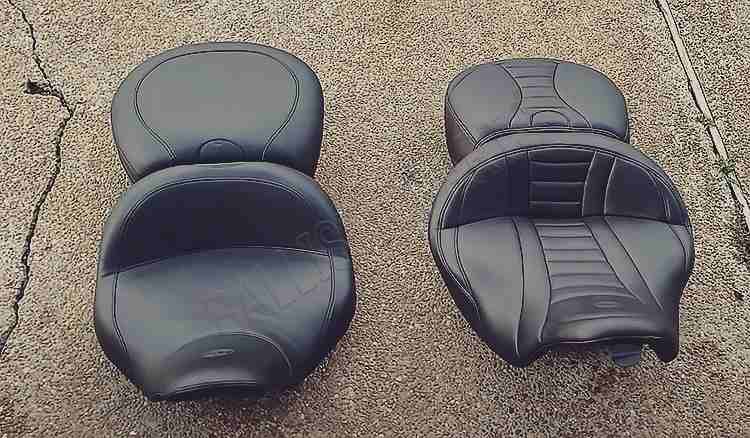 ---
Saddlemen 806-04-172RD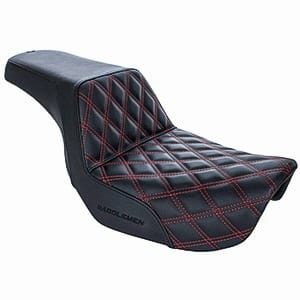 This is a fairly large comfortable seat that is suitable for long trips. It has a cool retro design with red embroidery. The seat's surface does not slip and is resistant to the sun and water exposure. The special foam creates a fairly soft fit, while maintaining proper elasticity.
Pros
retro design
elastic seat with a comfortable fit
excellent resistance to negative external influences
installation instructions and necessary details are included
Features
color – black with red firmware
Approximate weight – 10 Pounds
manufacturer – Saddlemen
The seat is designed for Harley Davidson motorcycles. To match it with your motorcycle model, contact the seller before buying. Saddlemen is an American manufacturer that always pleases the customers with the high quality of the used materials.
How to install this seat?
– The manufacturer includes complete instructions for installing the seat and provides all the necessary details. Installation usually takes up to 30 minutes.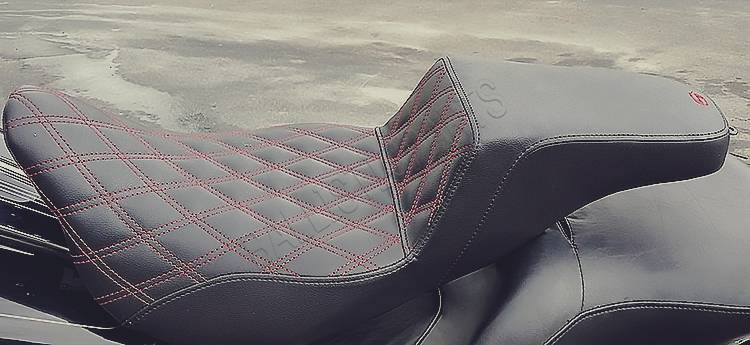 ---
OSAN Leather Pillion Pad CP0316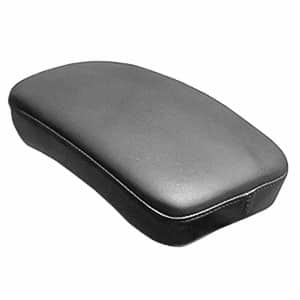 A rather simple rear passenger seat design allows you to use it on any motorcycle. The seat can be attached using suction cups, which makes it quite mobile. The dimensions of the seat are 27 by 19 cm, which is enough for a comfortable ride around the city.
Pros
mobile suction cup seat
suitable for installation on most cruiser motorcycles
simple mounting system
low cost
Features
black color
material – faux leather
seat type – removable passenger seat
weight – 13 ounces
manufacturer – OSAN
This is a simple and practical rear passenger seat. It absorbs vibration quite well and is water-resistant. You can install the seat in minutes as it is attached using special suction cups.
Can this seat be washed?
– The seat can be washed. But do not expose the suction cup to water.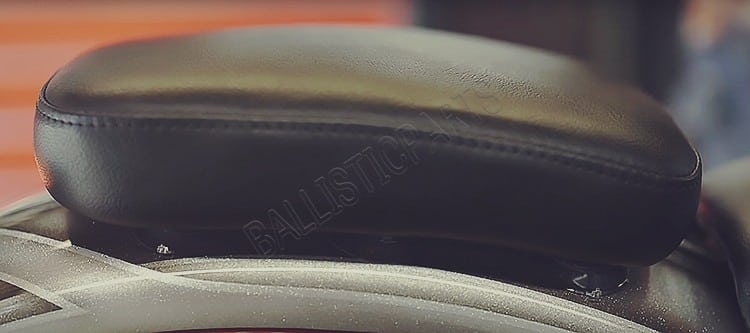 ---
KATUR Motorcycle Cafe Racer Seat Hump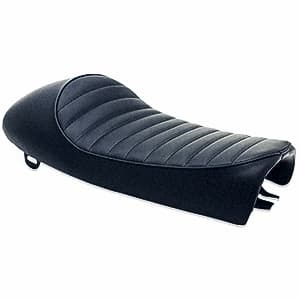 Among many Honda motorcycle seats, the KATUR seat stands out for its shape and ability to absorb a wide variety of shocks and vibrations. It was created for a comfortable ride around the city and is large enough to fit a motorcyclist and a passenger. The materials include high-quality faux leather, which is quite elastic in comparison with soft foam seats. This combination prevents the seat from slipping over time.
Pros
stylish and comfortable seat
big size
long-lasting rear cruiser seat
Features
black color
materials – faux leather, plastic, foam
Approximate weight – 3 pounds
manufacturer – KATUR
This seat looks stylish and allows you to move around the city comfortably. The manufacturer also has several color options, so you can easily pick up a seat to match your bike.
What are the exact dimensions of this seat?
– The exact dimensions are 21 cm x 61 cm.
---
Mustang 79538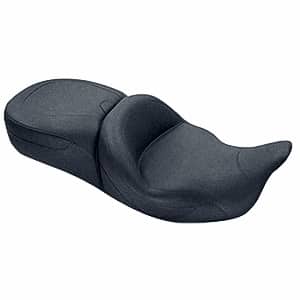 This is an excellent "business class" seat. You and your passenger will get the maximum comfort during the ride. The rather large design provides a soft fit, excellent ventilation, and effective vibration absorption.
Pros
increased comfort
high-quality seat trim
simple installation
Features
black color
type – main and passenger seat
kit weight – 16 pounds
manufacturer – Mustang Motorcycle Seats
The seat is designed for long trips and travels so that you can feel as comfortable as possible. The manufacturer also offers you to purchase a back for a motorcyclist. It is worth mentioning that many used mustang motorcycle seats look perfect, thanks to high-quality finishing materials.
What motorcycles is the seat designed for?
– It is suitable for Harley Electra Glide touring cruiser motorcycles.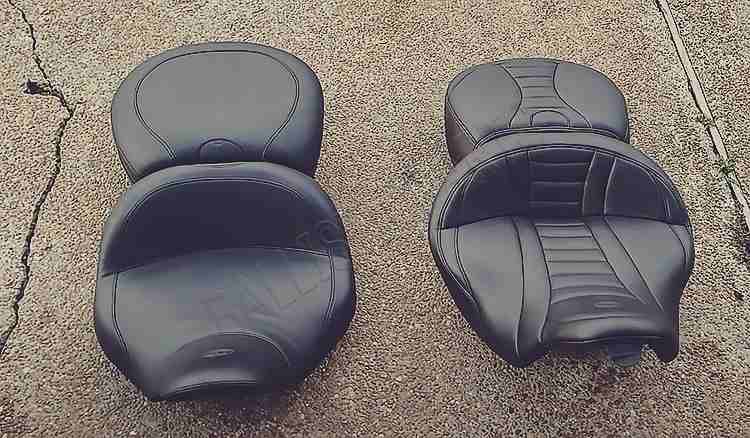 ---
Retro Brown Motorcycle Soft Leather Seat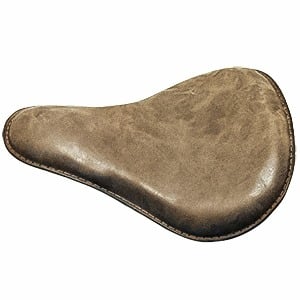 This is a classic retro seat that looks very stylish and is used on many old motorcycles. It is made of high-quality leather and special durable foam. The versatility of the seat allows you to mount it on a variety of bikes. The seat is capable of absorbing any vibration using strong springs.
Pros
stylish retro look
resistance to external influences
great durability
springs and support mount
suitable for motorcycles of various brands
Features
Brown color
materials – leather, neoprene foam
approximate weight – 5 pounds
manufacturer – Rich Choices
It is a great choice for those who like durable retro seats. This is a high-quality universal seat. The manufacturer offers various colors and finishes.
How long does it take to mount this seat?
– The design of the seat is simple and practical at the same time. It will take you no more than 30 minutes to install the seat if everything is done correctly.
---
Saddlemen Dominator 0801-0806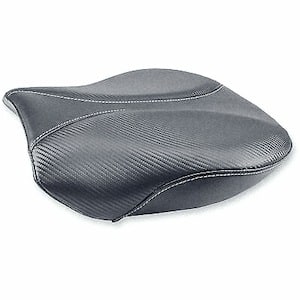 This is a simple seat made of a unique gel filler and synthetic durable finishing material. This seat will serve you for many years, providing comfort during any ride on a motorcycle. It is compatible with Harley Davidson motorcycles.
Pros
the most standard but durable seat
low cost
easy installation system
Features
black color
gel base
weight – up to 4 pounds
manufacturer – Saddlemen
The simple seat design allows for quick installation in a garage. This is a practical small seat with a high-quality finish that is resistant to water, dirt, and light mechanical influences.
What size is this seat?
– The approximate dimensions of the seat are 13 by 12 inches.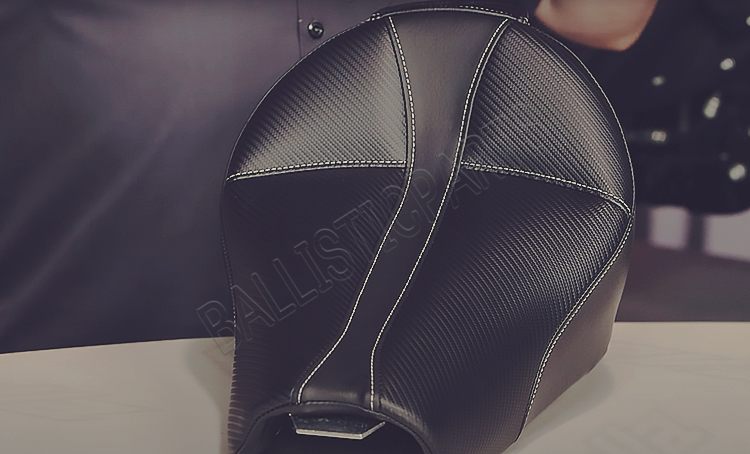 ---
Mustang Motorcycle Seats Brown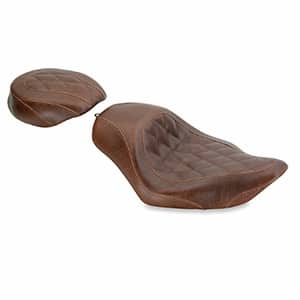 This set of two seats in a stylish retro design absorbs any vibration effectively. The seat is very soft, but it does not slip and holds its shape. Comfort during long trips is guaranteed.
Pros
unusual stylish design and nice color
affordable price
increased comfort and soft vibration reduction
Features
Brown color
type – main and rear passenger seat
weight – up to 5 pounds
manufacturer – Mustang
This seat set is suitable for Harley-Davidson Dyna Family motorcycles from 2006 to 2017. It is easy to install and requires no maintenance. The seats are resistant to water, dirt and mechanical stress.
Can I install it as a replacement for Kawasaki motorcycle seat?
– No, you can't. This seat is designed for Harley Dyna motorcycles only and is not suitable for other motorcycles.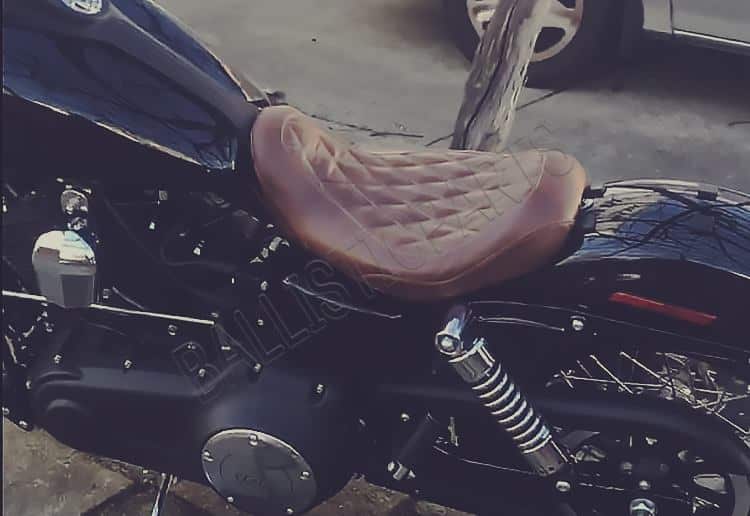 ---
Conclusion
---
In conclusion, it is worth saying that many affordable motorcycle seats on the market have high quality and allow you to achieve the proper comfort level, like expensive seats. They are made with durable and water-resistant materials that hold their shape and are not washable. Some seats provide a comfortable ride on the longest journeys for both the motorcyclist and the passenger. The main seats for a motorcyclist only are usually retro ones. You can easily pick up a seat of the necessary comfort level for any motorcycle.
---
Frequently asked question
---
What is the best motorcycle seat?
The best seat is a comfortable one that allows you to make trips of any duration without fatigue. There are excellent seats both in retro and innovative designs on the secondary market. The best seats are from Mustang. They provide maximum comfort and are made of high-quality durable materials.
What kind of foam is used for motorcycle seats?
Most comfortable and soft seats, elastic enough to hold their shape, use special foam with various durable finishes. Most often, it is neoprene foam like in Rich Choices seats.
Are Saddlemen seats comfortable?
The Saddlemen motorcycle seats are made from various materials and have different shapes. For example, the Dominator Solo Seat Pillion Pad seat is not actually comfortable, as it is the simplest and most practical seat. But the option with red retro firmware is very comfortable and allows you to take the most distant trips without any uncomfortable sensations.
Are Corbin seats worth the money?
It is known that Corbin seats cost a lot of money compared to alternatives from other third-party manufacturers. They are really reliable and comfortable, but many other manufacturers on the market offer decent seat options that are resistant to mechanical influence and can last for years. Also, pay attention to seats from Katur and Mustang.